About Me
Harvey is a great photo buddy!
Photo by Tim Zerkel
My name is Jody, and I have been a rabbit owner since 2008.From 2011-2019 I worked as a Health Associate at a local rabbit rescue in Van Nuys, CA where I was in charge of the health and welfare of the shelter's bunny population (anywhere from 60-130 residents at a time), boarding bunnies and answering any questions the public might have had about rabbits in general. In 2017, I became an Educator with the House Rabbit Society, an international rabbit advocacy group based in Richmond, CA. My husband and I currently live in Southern California with 5 very spoiled and sassy bunnies.
The Bunnies
This website would not be possible without the help of the hundreds of rabbits I have encountered over the years. However, the ones with whom I have shared my home are the ones who have taught me the most.
Whoppy & Oso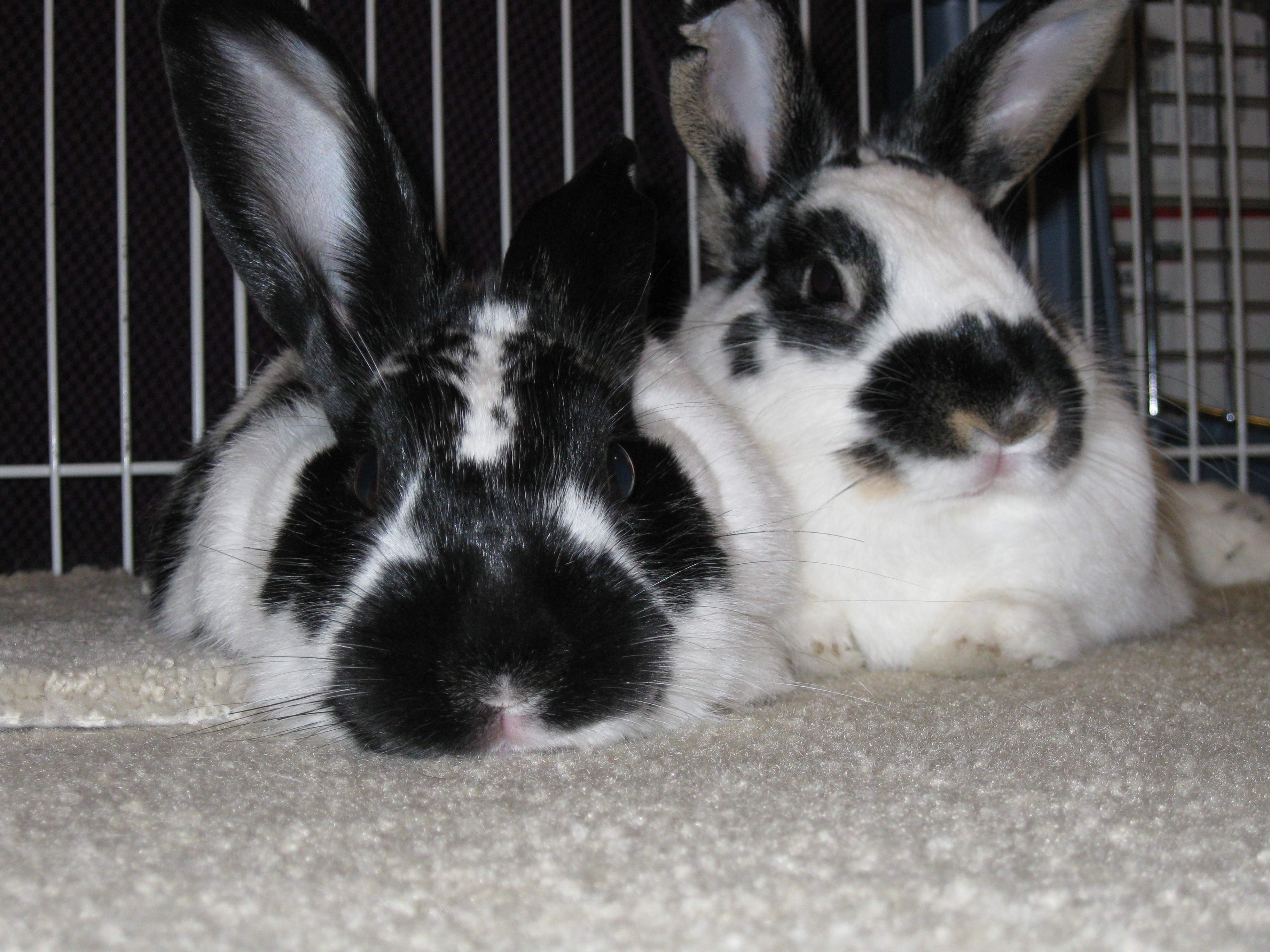 Whoppy and Oso
These two half-brothers were my first two rabbits. I brought them home in the Fall of 2008 when they were barely out of baby-hood. I got to experience their adolescence, adulthood and senior care. They have taught me a great deal about bonding and behavior. Oso passed away on Nov 5, 2017. Whoppy passed away September 21, 2019.
Wilbur
Wilbur
I adopted Wilbur just a few months after I started working at the rabbit rescue. Wilbur was born with a defective left rear leg. It stuck out at a 90 degree angle. His previous owners had dumped him in a wilderness park when he was young, but a lady had rescued him and took him to the shelter. His leg was not an issue (except when he wanted to scratch his ear). He was a fluffy, easy-going guy, who got along well with both bunnies and people. He lived with Whoppy, Oso, Zoe and Emma. He passed away unexpectantly on September 11, 2015.
Zoe
Zoe
When I first met Zoe, I was still very new at the rabbit rescue. She came in as a 3-week-old unweaned sick baby. I was asked if I could take her home for a couple of days until another volunteer experienced with babies came back from vacation. I took her home and she's been with me ever since. I got a crash course on unweaned babies, hormonal and feisty females and a full-blown diva attitude. I had received both many bites and snuggles from Miss Zoe over the years. She passed away July 12, 2023 at the impressive age of 12.
Emma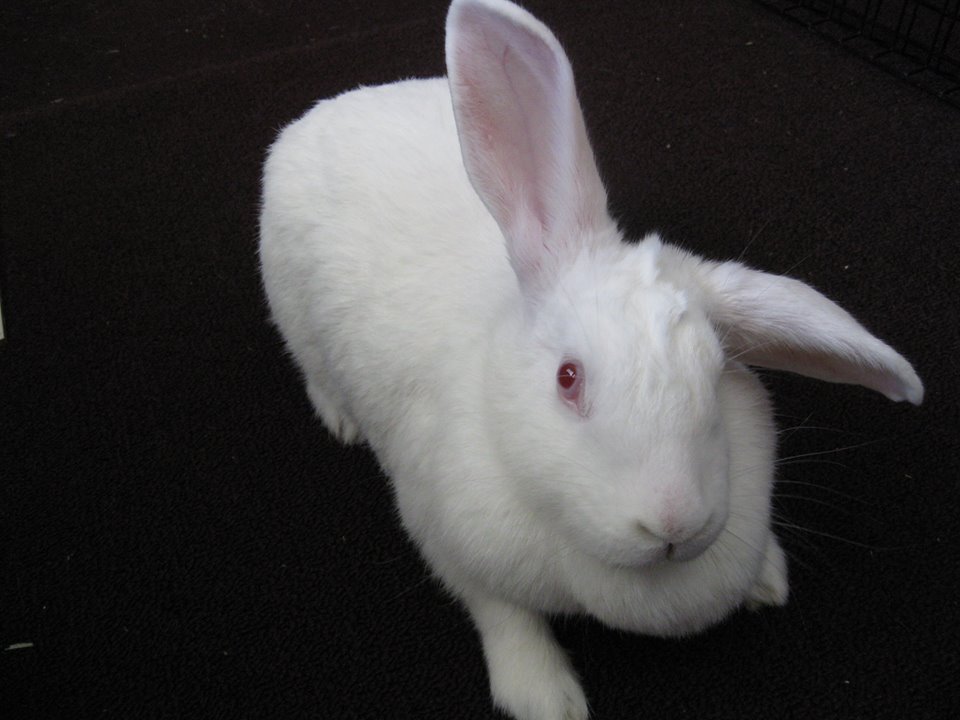 Emma
I adopted Emma in 2014, and she was bonded with Whoppy, Oso, Wilbur and Zoe in 2015. She admired Zoe, but did not have much use for the boys. She loved to communicate with a firm nip to both people and bunnies. With a large, off-center dewlap and unicorn ears, she had an appearance as unique as her personality. Emma passed away June 23, 2022 from old age. She was approximately 9.5 years-old.
Joey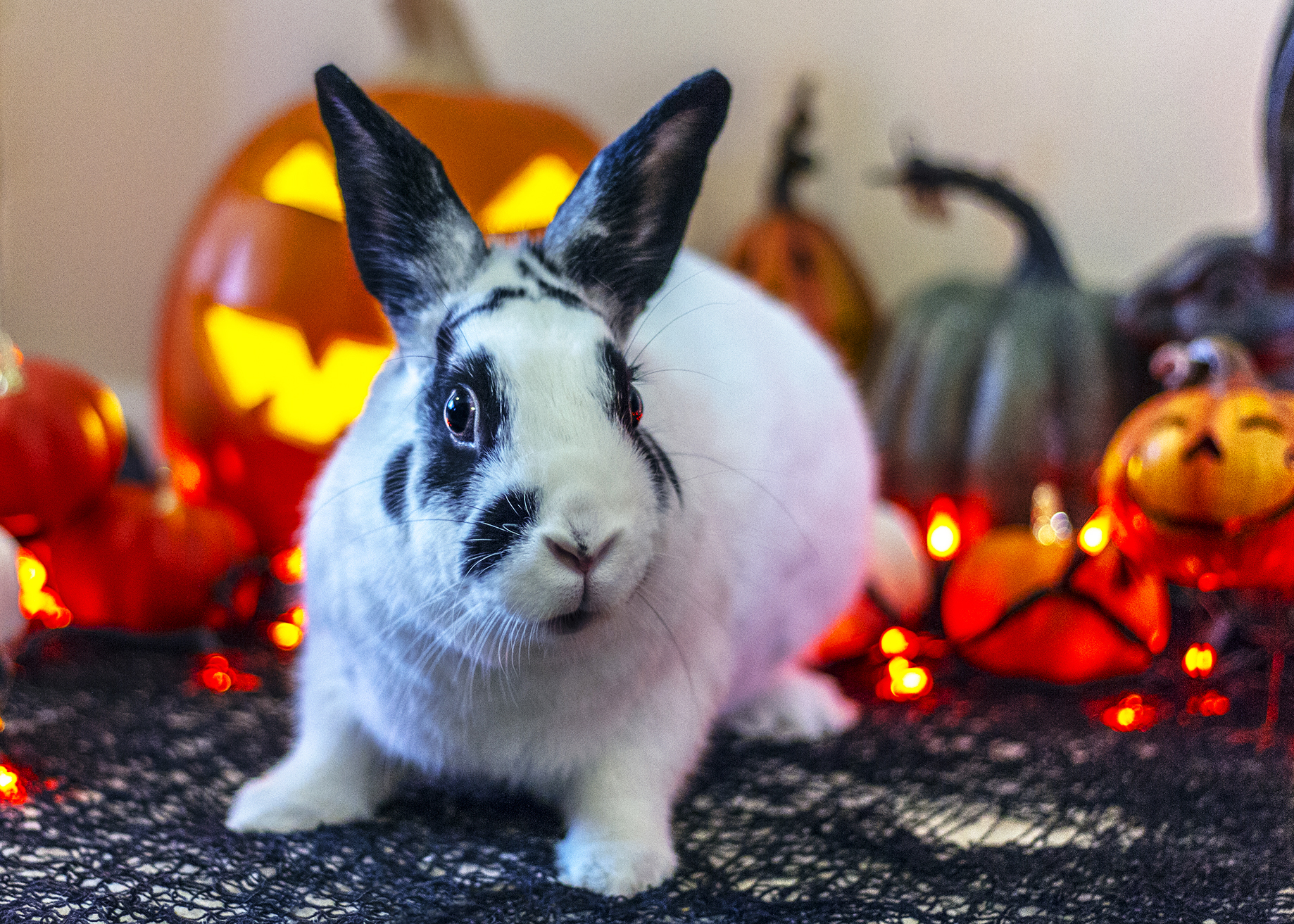 Joey
Photo by Dustin Yoder.
I adopted Joey in December 2017, after my husband and I fostered him for the previous 6 months. He has a great deal of energy and tries to run it off as much as possible. He's very fond of digging and rearranging sheets and towels. His mortal enemies are cardboard and any barriers put in place to keep him away from trouble. He was named after baby Kangaroos for a good reason. Currently, he is bonded with Soot.
Diamond
Diamond
Photo by Dustin Yoder taken at BunnyLuv Rabbit Resource Center.
Diamond had arrived at the shelter in 2013. He had a spinal compression, which prevented him from using his back legs. I was his main caretaker for many years and made sure his quality of life was very good. He loved people. He lived with several other bunny friends whom he adored, and he got a lot of attention. In 2018, I decided to formally adopt him after the last of his companions passed away. A few months later he passed away from pneumonia. He was about 6-years-old at the time.
Roxanne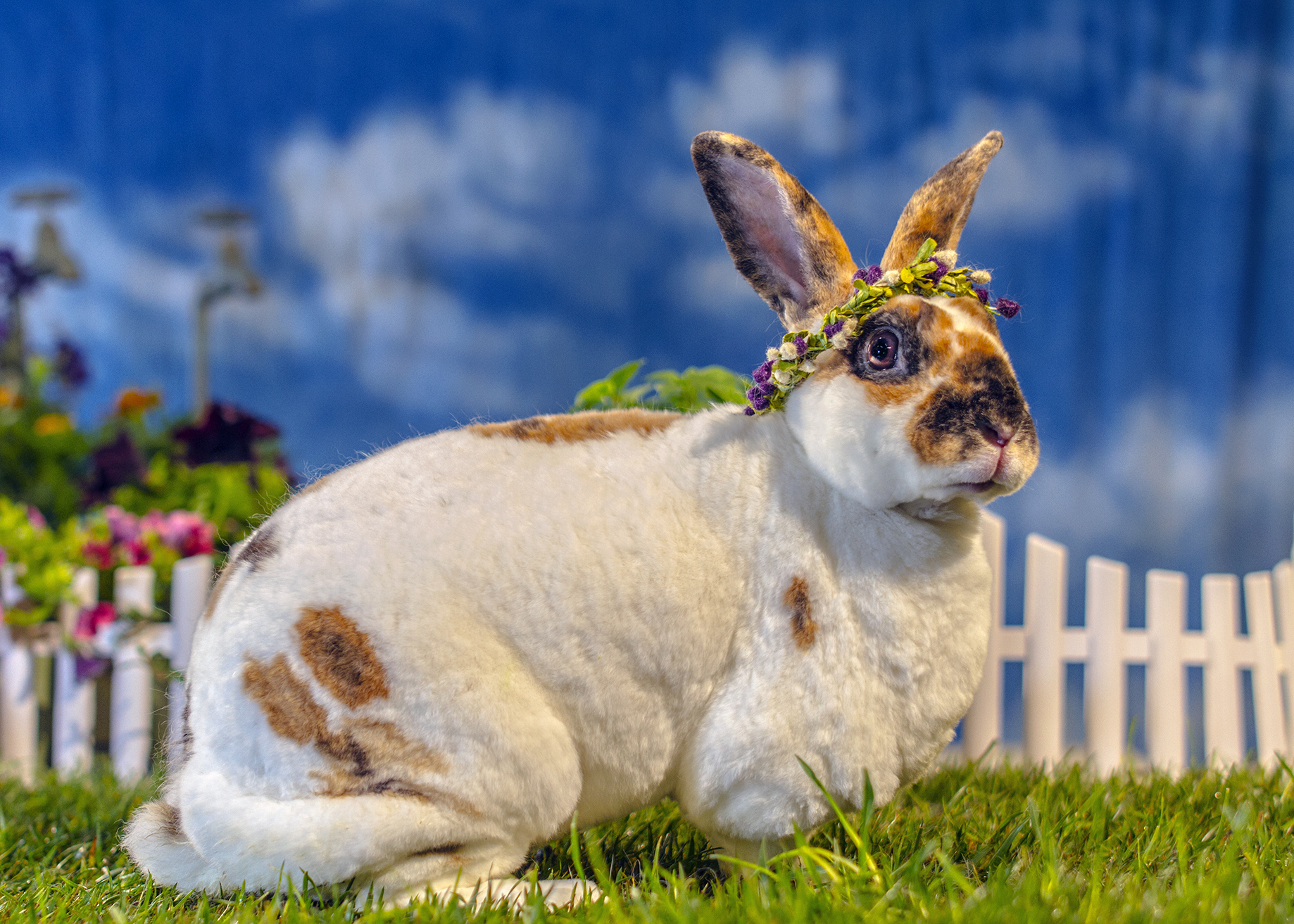 Roxanne
Photo by Dustin Yoder taken at BunnyLuv Rabbit Resource Center
Roxanne came in to the rescue with her friend, Abbey, in Nov 2014. Abbey had serious dental issues which needed constant observation, but her older friend, Roxanne, was always in good health. After Abbey fell ill again in December 2018, I took both ladies home to give Abbey some extra attention. Unfortunately, Abbey passed away in July 2019, but Roxanne had already made herself quite comfortable in my home. My husband and I agreed to let her stay, and I brought home Poppy from the shelter as a new friend for Roxanne. Roxanne was a beautiful tri-color Rex. Roxanne passed away June 16, 2020. She was approximately 12-13 years old.
Poppy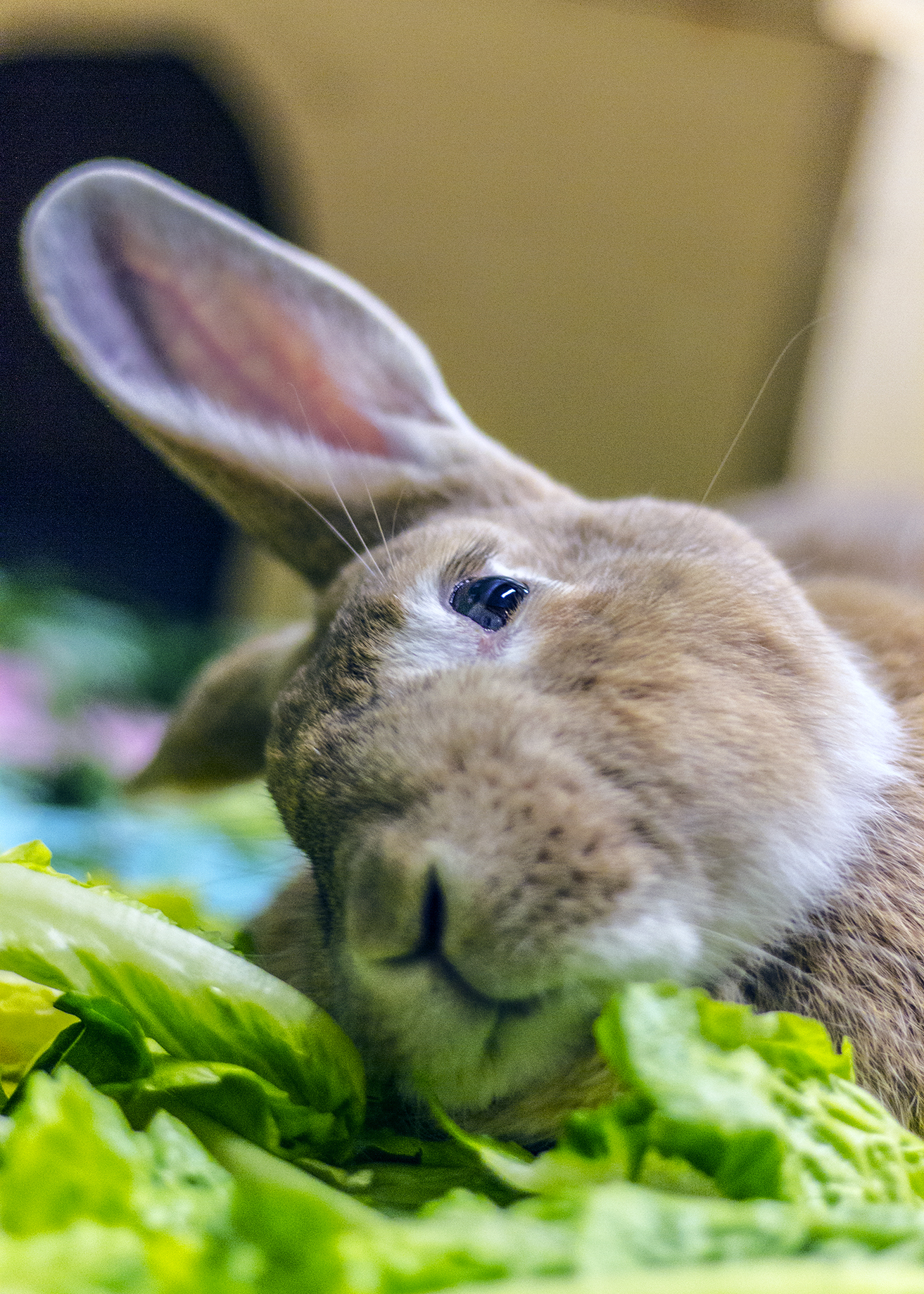 Poppy
Photo by Dustin Yoder taken at BunnyLuv Rabbit Resource Center.
I first met Poppy in the Fall of 2012 after she was pulled from a local city shelter. She was always an easy-going rabbit. She was quite popular in the large bunny groups at the rescue, where she was always surrounded by a half-dozen of her best bunny friends. She started displaying signs of head tilt in 2016 and never fully recovered. Her friendly personality made her a favorite with many clients, volunteers and staff of the rescue. In July 2019, I took her into my house as a potential friend for Roxanne and to provide her any additional care required. In December 2019, she developed rear-end paralysis, but still lived a happy and full life until she passed away September 29, 2020. She was approximately 12-13 years-old.
Panda & Slimmy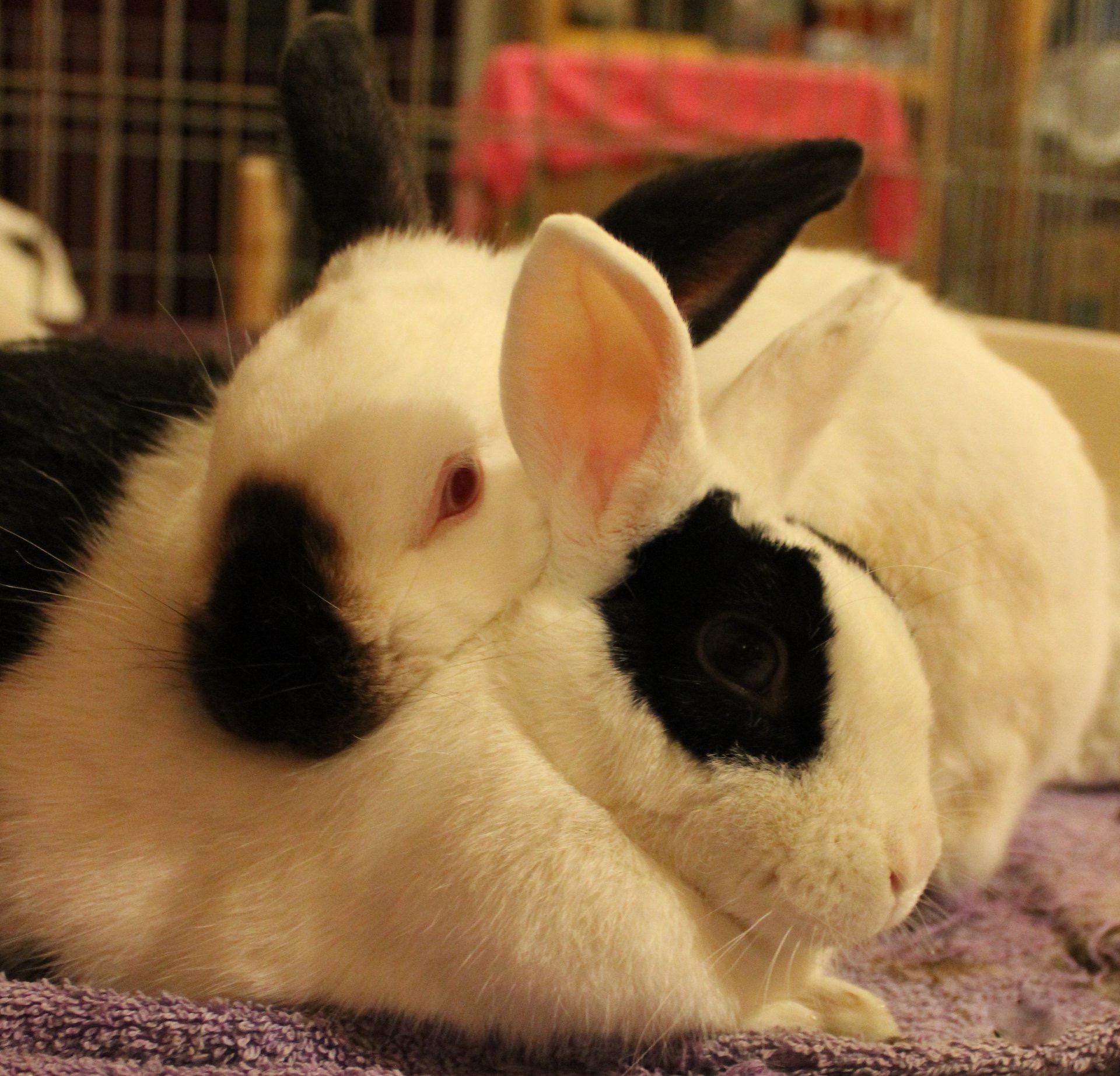 Panda (front) & Slimmy
Panda came into my house as an unweaned baby in February 2014 and she never left. She loves to sprint around the living room, binky on the couch and try to figure out the best ways to sneak in where she shouldn't to chew wires. She's a playful girl and has never met a treat she didn't like. 

Slimmy (aka Slim Jim) was found wandering outside alone during a brutal August heat-wave in 2013. He was blind in one eye and had neurological issues (which might have been congenital). He initially had some trouble adjusting to life at the rescue, so I had brought him home to see if he would respond better in a home environment. He quickly made friends with Panda (with no help from me), and the two were inseparable. Slimmy was probably much older than Panda. He passed away October 1, 2019.
Cupcake and Sprinkles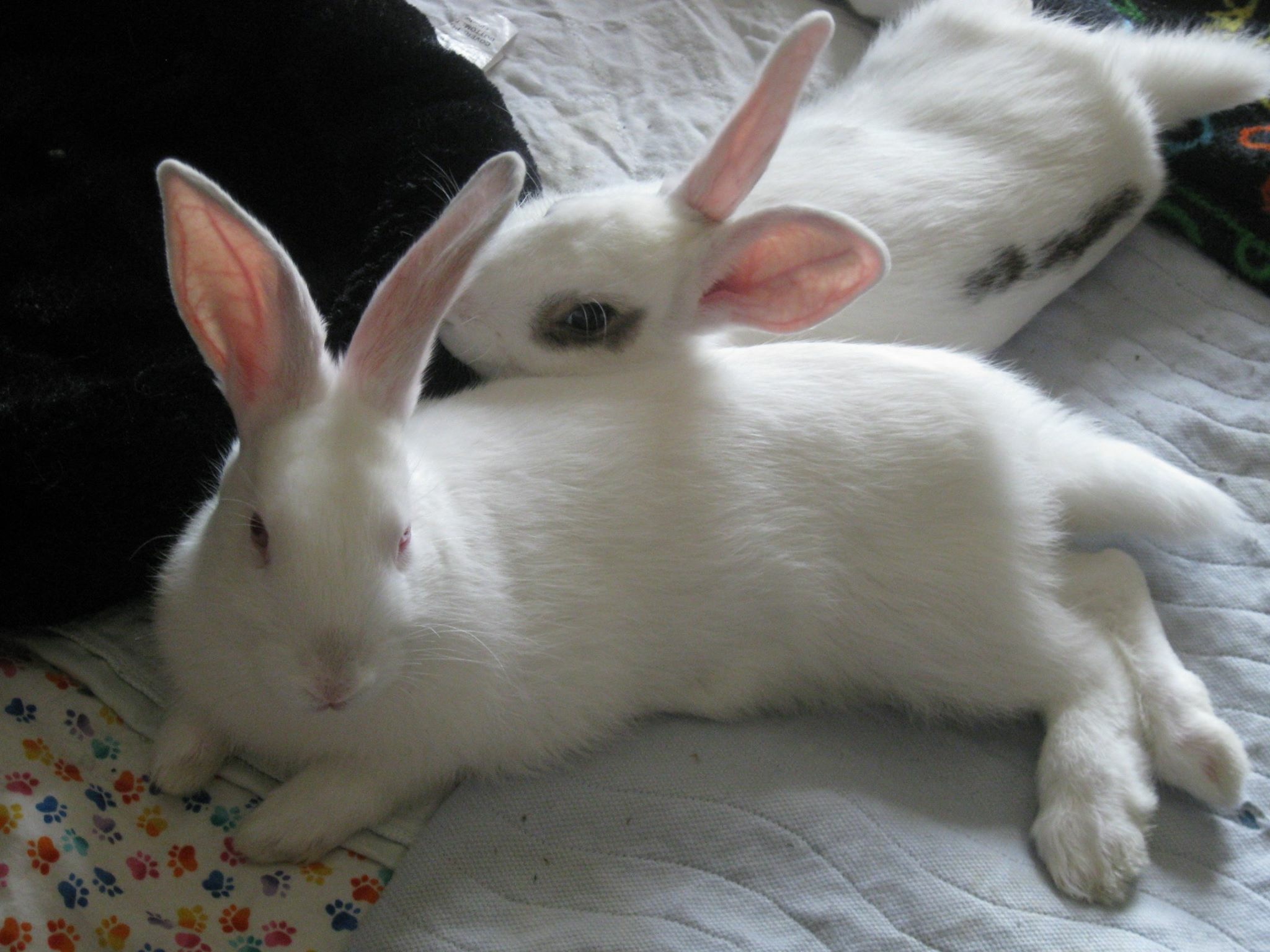 Cupcake & Sprinkles (front) as babies
These two brothers entered my house as unweaned babies in 2013 after the rescue pulled them from one of the local city shelters. After they were neutered, they went back to the rescue to be adopted. However, no one seemed interested in these two beautiful boys, so in 2017 I decided to foster them permanently at my home (I eventually adopted them). Sprinkles passed away from cancer on August 30, 2020. In September 2020, I bonded Cupcake and Panda together so neither one would be lonely. They currently spend a large part of the day snuggling and looking for treats.
Eddie
Eddie sleeping on Poppy.
I first met Eddie in November 2012 at the rescue. He had been one of 45 rabbits taken in from a hoarding situation at a local horse stable. He was one of 15 white, red-eyed bunnies in that group. He had various health issues throughout the years, but eventually ended up at my house in April 2020. At that time, he could no longer stand (although he really tried). He was paired up with two other disabled bunnies - Roxanne and Poppy. After Poppy's passing, he moved in with Cupcake and Panda and was the center of everyone's attention. He passed away April 13, 2021. He was approximately 11-12 years old.
Winston
Winston
In January 2021, Lily's Legacy Foundation was alerted by Orange County Animal Care Center that they had just received a young rabbit with what looked like a possible back injury. The rescue contacted me to see if I would be interested in taking the little guy in. I agreed, but luckily, the back injury was moderate and Winston improved his mobility a great deal. There still seems to be some nerve damage, but he doesn't let this get him down. He was about 6-months-old when I took him in, so he loves to run, investigate, play and get affection. With his white mittens, that flowing mane and the white dot on his nose, Winston will always be strikingly adorable. 
Dior
Dior
A couple of months after I took in Winston, I was asked if I would be able to take in another bunny with spinal issues. Dior had broken her back several months prior, and the owner was overwhelmed by the care required and simply couldn't keep up. Dior had a spinal compression that had damaged her back end, preventing her from urinating on her own. Her right rear foot was also compromised due to her condition. Dior was bold, curious, confident and frankly, she had places to go. It was obvious that she really didn't have time to let this injury get her down. Dior was very friendly, but if she was done with getting affection, she would go do something else. Her favorite thing to do was to hide under a bedsheet that I had tied onto the pen. She had a terrific spirit. She died after complications due to an unexpected abdominal infection on February 5, 2022. She was only 3.5 years-old.
Soot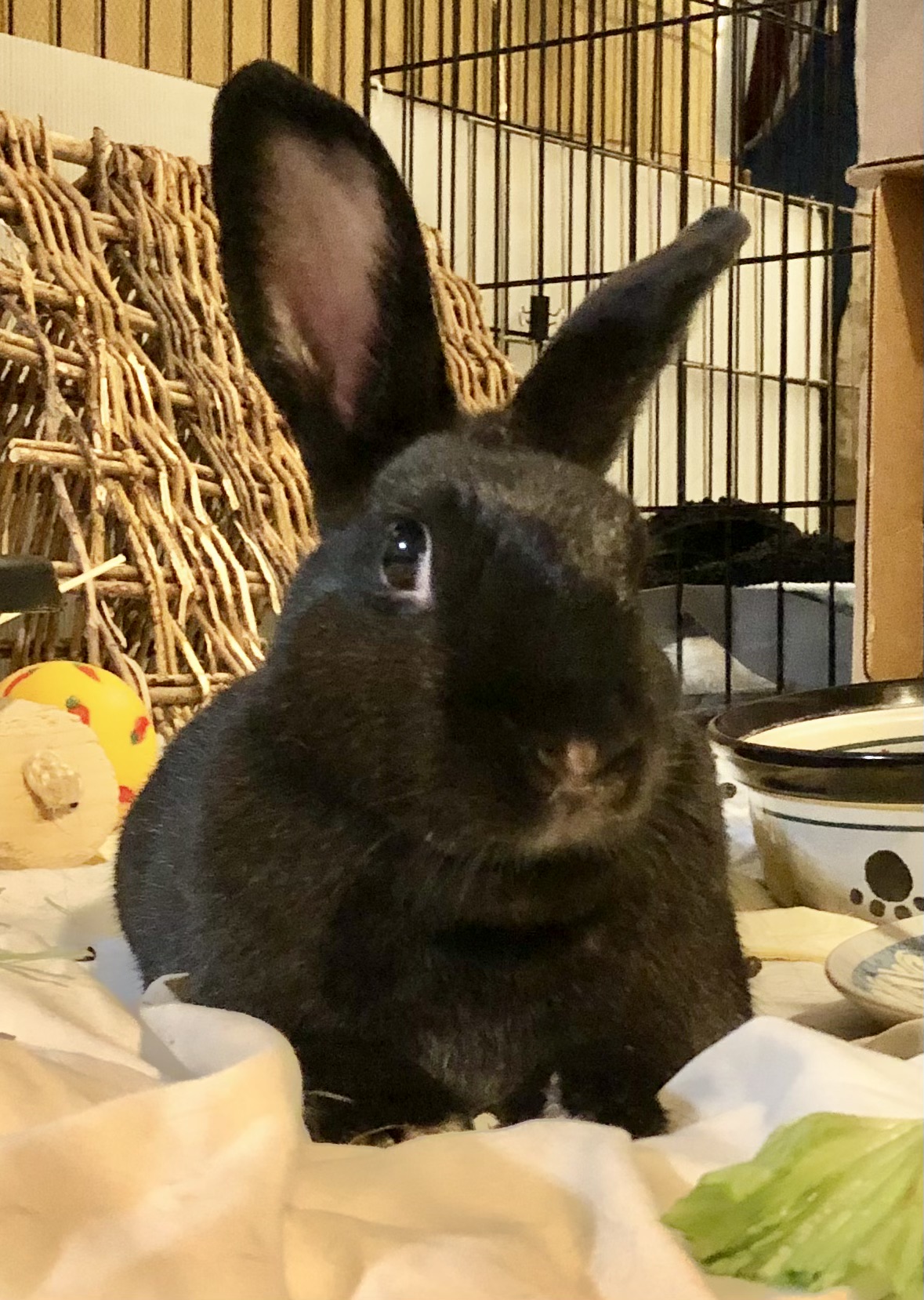 Sooty-Girl looking sassy.
The first time I saw Sooty-Girl, she was plastered all over Facebook. The Orange County Animal Shelter had a black, head-tilt bunny in their care. They were looking for a rabbit rescue to take her, since they were not equipped to handle such a rabbit. The rabbit rescues were all full, but some of them reached out to me - did I know anyone who could take her? Turns out that someone was me. I brought her home October 23, 2022, had her immediately checked out and started on the proper medication. Within a month or two, she had completely straightened out and was climbing all over precarious stacked piles of bunny laundry with ridiculous ease. The vets estimated her age to be about 3-years-old, but she has the crazy energy of a very young rabbit. She frequently gets into mischief, but knows her cute looks will get her out of serious trouble with her Bunny Mom. She is currently living the life with her BFF Joey.
Forever Loved
I was providing hospice care to most of these bunnies. The time they lived with me seemed all too short. Their stories will be told later.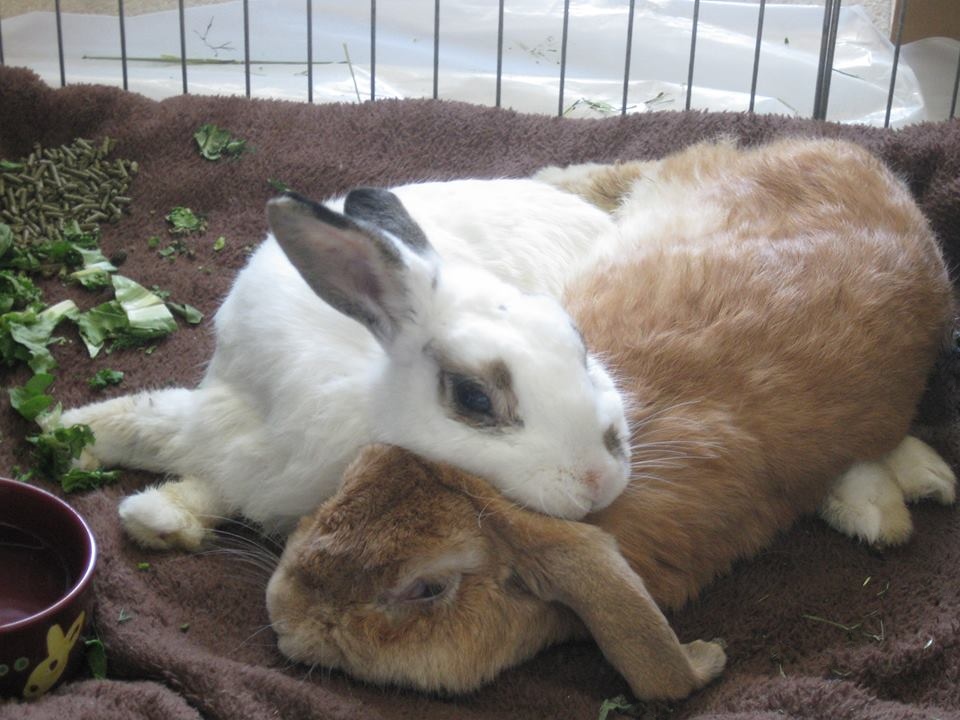 Kirby & Roxy
Benji
Photo by Kristina Driskill.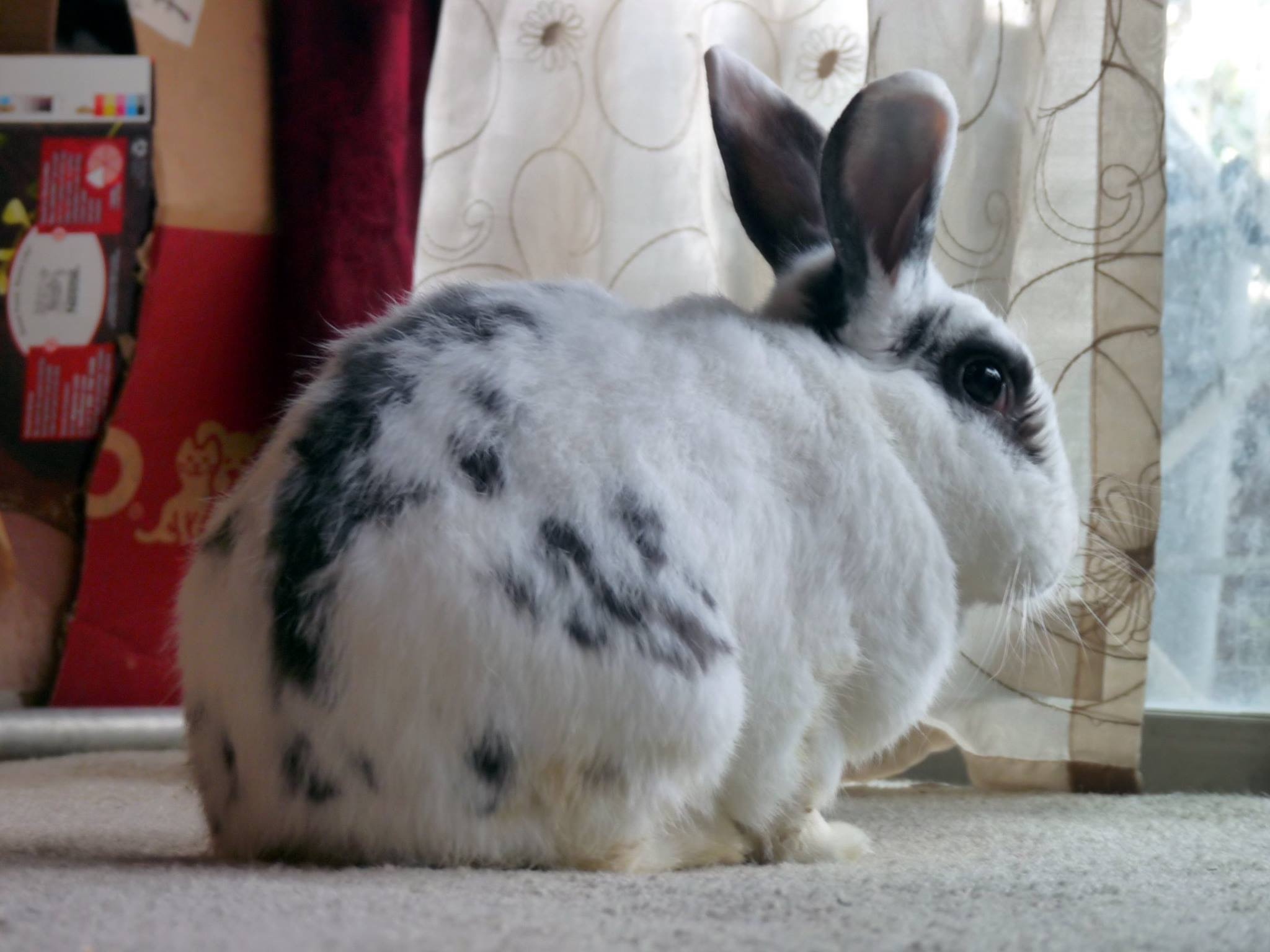 Nat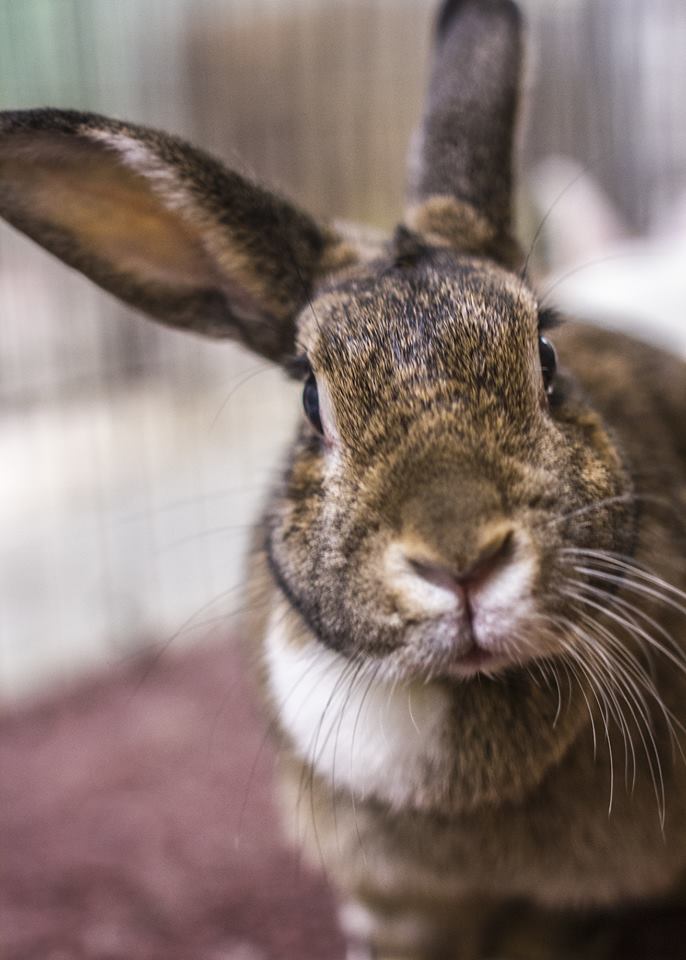 Petra
Photo by Dustin Yoder taken at BunnyLuv Rabbit Resource Center.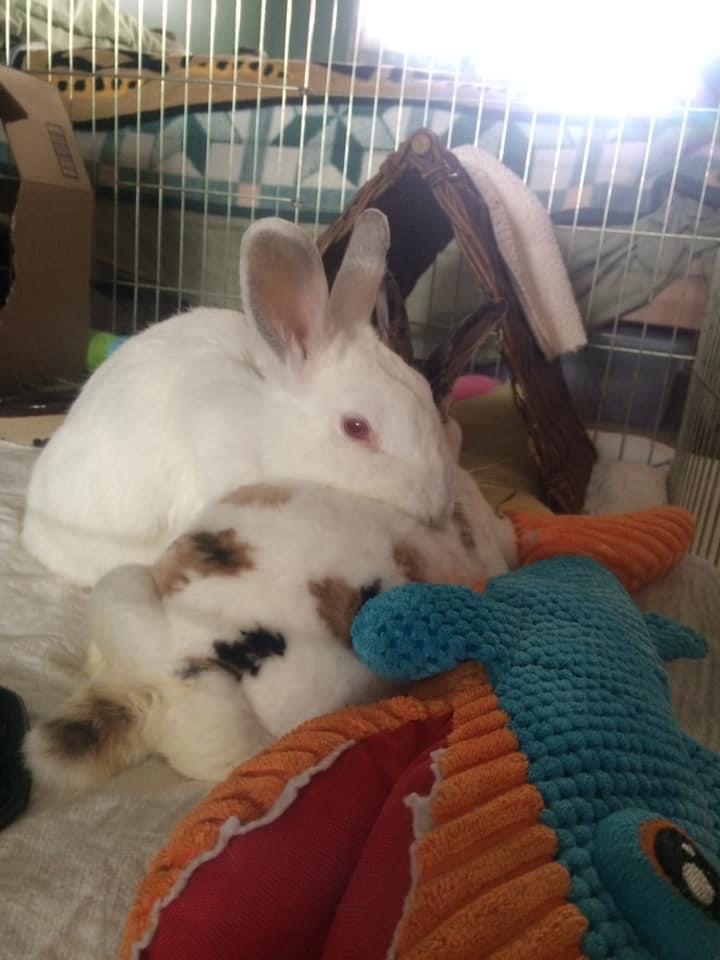 Abbey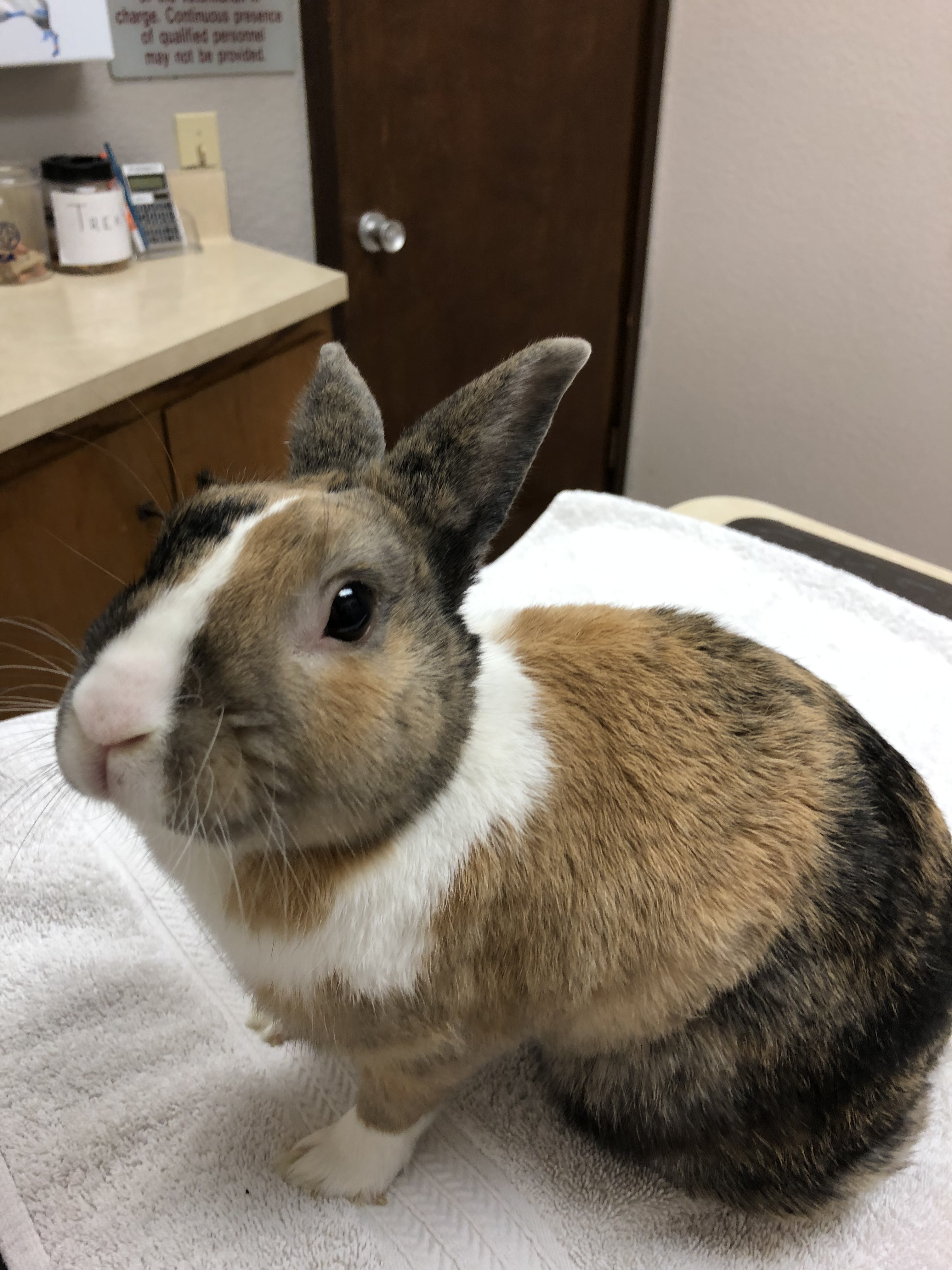 Quartz
Photos
All photos on this website are used with permission. Many thanks to James Weygand, Dustin Yoder, John Borucki, Kristina Driskill and Tim Zerkel for the use of their photos.