Rabbit-Savvy Vets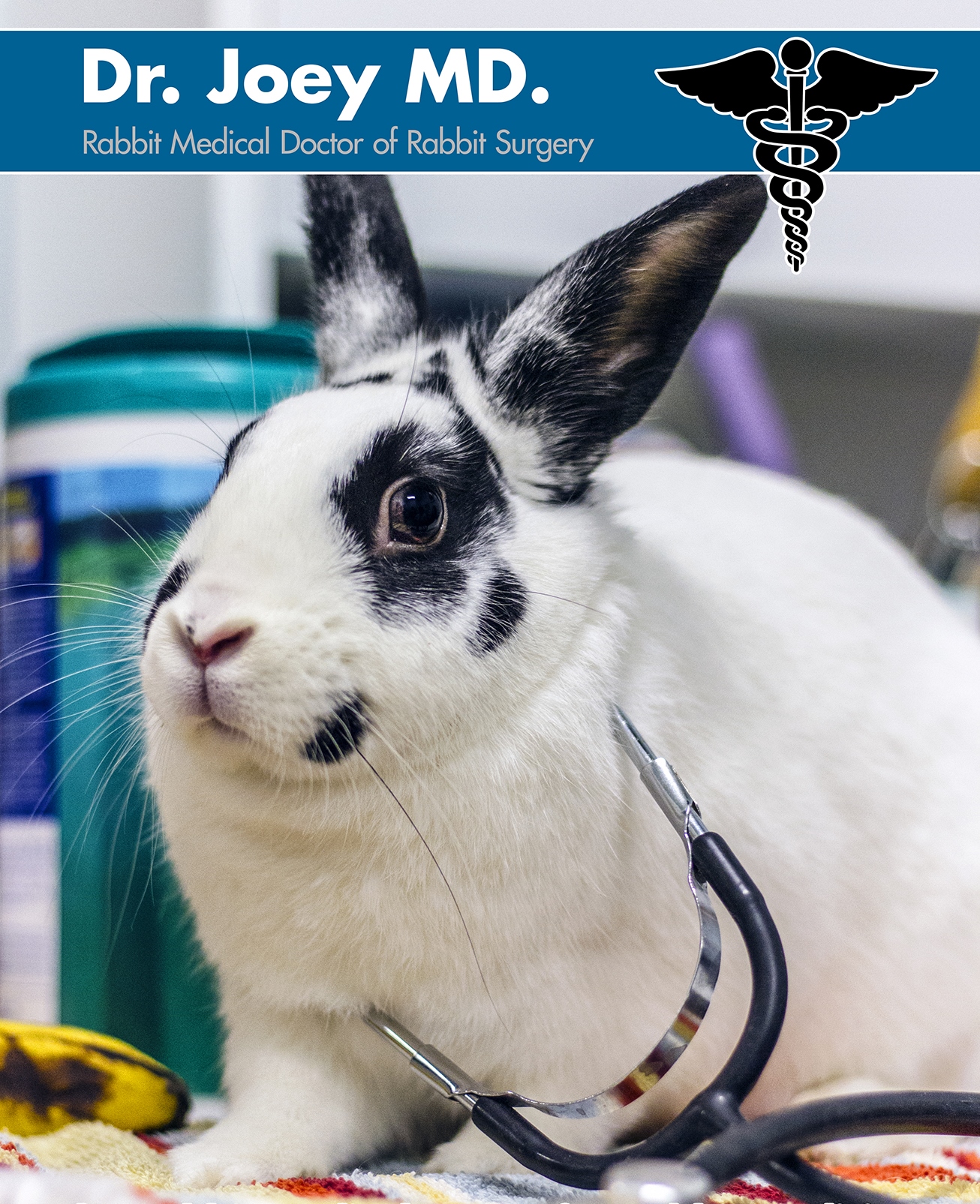 The doctor is in!
Rabbit-Savvy Vets
Finding rabbit-savvy vets sometimes proves difficult. Rabbits have different needs than dogs and cats. They are considered 'exotics' in the veterinarian community and most vets are not comfortable handling and treating rabbits. It's so important to have a good vet since your bunny's health can depend on the quality of the care and how swiftly you can get him help.

Finding a Good Vet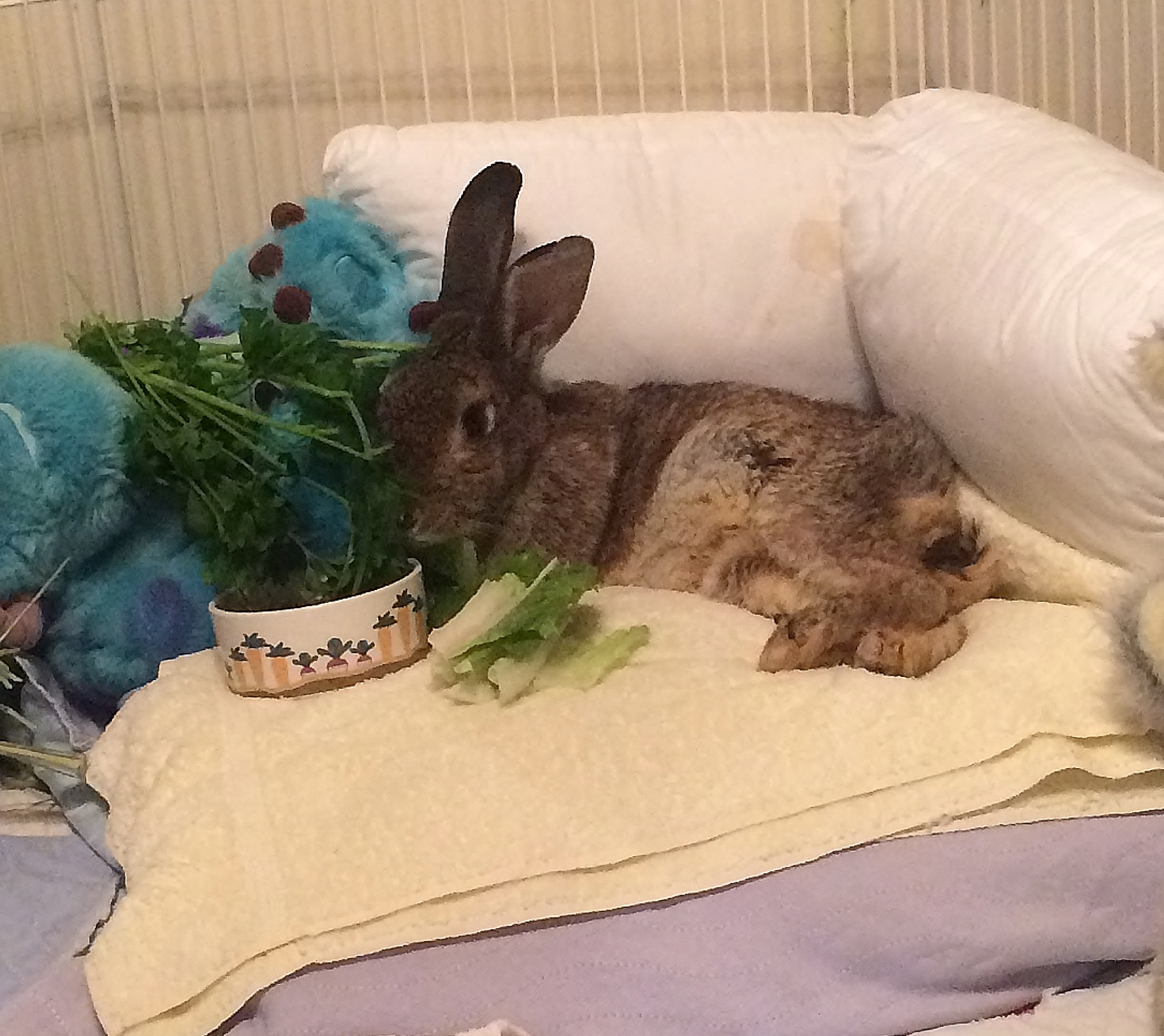 Petra was unable to stand and needed extra help to keep her comfortable and clean.
To make things even more complicated: Just because a vet will agree to see your rabbit, that does not mean they are particularly very knowledgeable. They may be able to do annual check-ups and maybe even help your bunny get out of GI stasis, but emergencies, dental disease, abscesses and other issues may be beyond their skill. Do not automatically assume your closest vet clinic is the right one for your bunny.
Important! An exotics vet means the doctor can treat a wide range of small animals that are not dogs or cats, such as rabbits, chinchillas, guinea pigs, hamsters, rats, mice, birds, reptiles, fish, etc. 
A good rabbit-savvy vet doesn't necessarily have to be an exotics vet though. Rabbits are typically not taught in vet schools, so some vets may either work with a local rescue group or take extensive continuing education workshops and modules. Their accumulated knowledge and experience can be invaluable to you. 
As you look for your rabbit-savvy vet, here are a few questions to ask before you make your first appointment: 
How many rabbit spay or neuter appointments does the clinic perform a week? (Is it only a couple of times a month? If so, that means the clinic only does these types of surgeries a dozen times a year, which is not very many.)


How often do rabbits come into the clinic? Is it only a couple times a month or several times every day? 


Do all the vets in the clinic see rabbits, or just some? If the answer is "well they all see rabbits", try to narrow it down to see if everyone is an exotics vet or if there is one or two doctors who see the majority of the rabbit patients.


Do the doctor recommend that food should be withheld the night before surgery? (If they says yes, run away! Rabbits are physically unable to vomit, therefore there is no need to withhold food before surgery.)


Does the doctor prescribe pain medication after surgery? Is pain medication prescribed after spay/neuter surgery? If the answer is no, I would continue the search. Not giving pain medication is an archaic philosophy. Pain relief results in a quicker recovery.


Does the doctor treat companion rabbits, or mostly rabbits used for show and/or meat? Many times an ill show/meat rabbit will be euthanized rather than treated, as the focus is more on rabbits as livestock rather than as pets.


What antibiotics does the doctor routinely prescribe? Are they aware of which drugs should not be given in any circumstance? Amoxicillin is one such drug. 


What type of surgeries does the doctor perform? What is the success rate? Does the doctor perform such diagnostics as ultrasound, MRI or CT? If not, is there a specialty hospital you refer?


Can the clinic handle a very sick bunny? For example, if the bunny is suffering from bloat (which is a time sensitive condition), can the emergency staff treat this or do they need to refer you to another clinic?


What is their protocol for treating GI stasis? At minimum, they should put a bunny on either heat or ice (depending on the body temperature), administer pain medication and fluids? Will the doctor administer any motility drugs, such as Reglan (metoclopramide) or cisapride.
Vet Referrals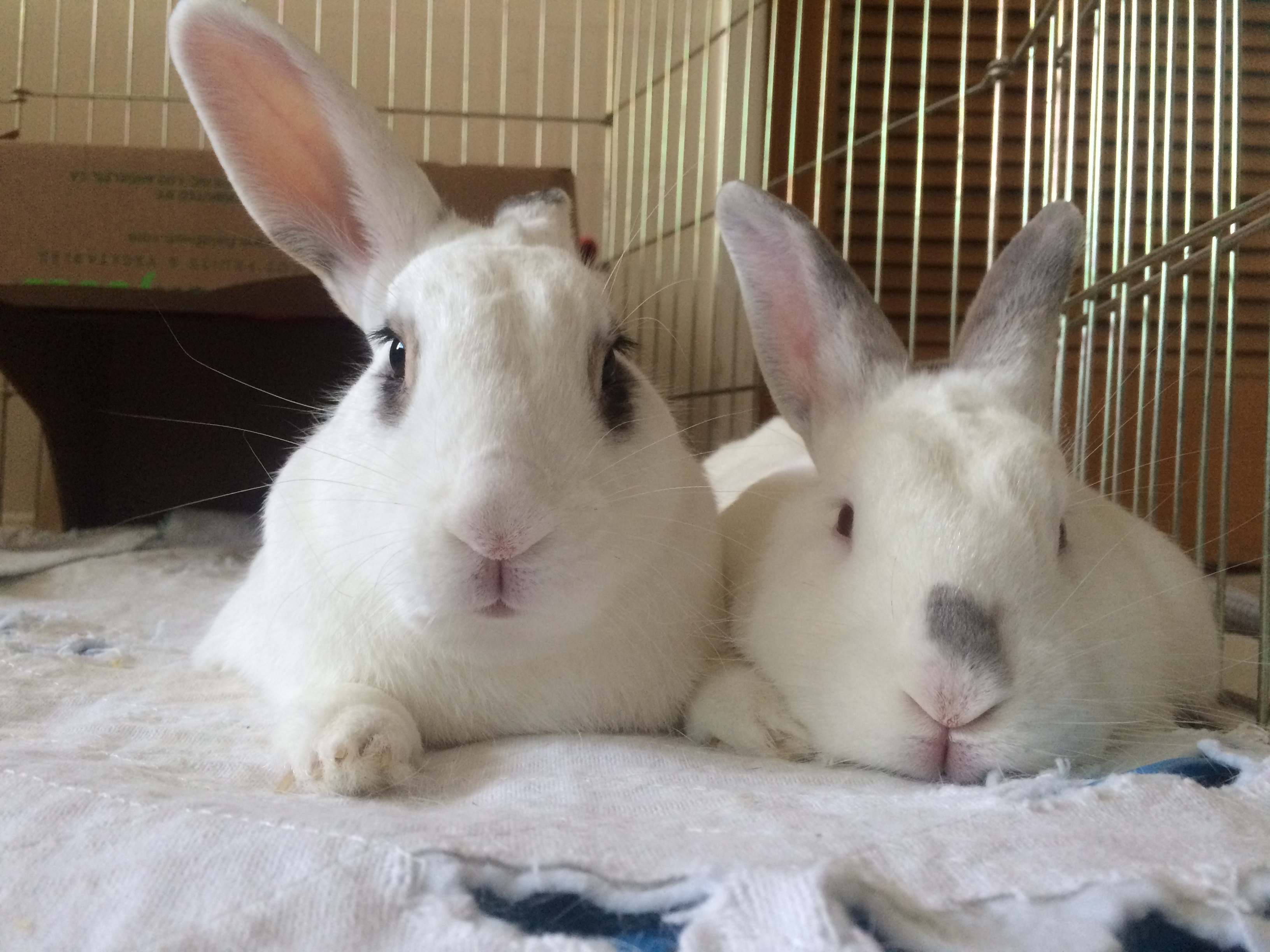 Cupcake and Sprinkles
The Educated Rabbit does not endorse any particular vet listed nor guarantee any service provided. This is a list to help you find the best vet for you and your bunny.
This is not a comprehensive list. If you don't see your favorite rabbit-savvy vet, please send me an email with your vet's contact details.
I have indicated if a clinic has 24-hour emergency. However, please be aware that an exotics vet is probably only physically present during daytime hours. If you have a 2am emergency, you'll most likely be first seen by the emergency doctor who may know very little about rabbits. 
California
Southern California - Los Angeles County
ACCESS Specialty Animal Hospitals - Dr. Karen Schachterle, Dr. Molly Gleeson - (Los Angeles, CA) There are several different ACCESS hospitals. Only ACCESS Los Angeles has exotics vets. 24-hour emergency 
All Animals Veterinary Hospital - Dr. Attila Molnar (Calabasas, CA) 
All Pets Medical Center - Dr. Daniel Reimer (West Hills, CA)
Avian and Exotic Animal Hospital - Dr. Walter Rosskopf (Lawndale, CA)
Baker Bristol Animal Hospital - Dr. Kumar (Costa Mesa, CA)
Conejo Valley Veterinary Hospital - Dr. Nisha Mitra (Thousand Oaks, CA) Note: Not all vets are experienced with rabbits. 24-hour emergency
Dr. Jack Vet Services - Dr. Michelle Jack (Marina del Rey, CA and surrounding areas) Note: This is a mobile vet service.
Exotic Animal Care - Dr. Sari Kanfer and Associates (Pasadena, CA)
Point Vicente Animal Hospital - Dr. Anne Dueppen (Palos Verdes, CA)
VCA Arden Animal Hospital - Dr. Chuck Misetich (Glendale, CA)
VCA Hospitals Wilshire - Dr. Frank Lavac (Santa Monica, CA)
VCA West Los Angeles Hospitals - Dr. Jessica Robertson (Los Angeles, CA) 24-hour emergency
Western Veterinary Group -Dr. Karen Gilman (Torrance, CA)
Central California 
Las Tablas Animal Hospital - Dr. David Edsall

Specialty Vets
 California Animal Rehabilitation (C.A.R.E.) - Dr. Jessica Waldman (Los Angeles, CA) - physical therapy and rehabilitation.
Florida
Exotic Animal Hospital of Orlando - Dr. Santiago Diaz (Orlando, FL)
South Carolina
Exotic Vet Care - Dr. Jose Biascoechea, Dr. Katie Rainwater, Dr. Abby Duvall (Mount Pleasant, SC).
Worldwide Referral
Association of Exotic Mammal Veterinarians
Australia
The Unusual Pet Vets (4 locations)
Balcatta Clinic - 59 Erindale Rd., Balcatta, Western Australia 6021
Murdoch Clinic - The Animal Hospital at Murdoch University 90 South St., Murdoch, Western Australia, 6150
Peninsula Clinic - 210 Karingal Dr., Frankston, Victoria 3199
Jindalee Clinic - 62 Looranah St., Jindalee, Queensland 4074