Shopping For Rabbit Supplies
Shopping Rabbit Supplies
Whoppy
Supplies for Your Bunny
The following is a list of companies and products who provide quality products for pet rabbits. I have either used the products personally (or something similar). As I publish more articles and discover more items, I will add to this list.
As an Amazon Associate, I earn from qualifying purchases.
Rabbit Hay
2nd Cut Timothy Hay
As mentioned previously in the Hay for Rabbits section, I don't recommend purchasing hay from your local pet store. I would first try your local feed store. These stores cater to people who own horses, chickens and other farm animals. Sometimes these stores will sell a flake or two of hay; others will sell a bale only. A bale is a good deal if you have a cool, dry place to store it. It can be bagged up and placed in a garage or waterproof container. If stored properly, the hay can last for a long time.
Hay may also be purchased from a rabbit rescue. This is a way for the rescues to raise funds for their shelter rabbits. It's a good way to support a worthy cause.
Some rescues, companies and farmers may sell quality hay online. Be aware that shipping may cost more than the actual hay. 
The following feed and rescue stores are located in Southern California.
Feed Stores
DaMoor's Tack and Feed

(Glendale, California)

Red Barn Feed and Pet

(Tarzana, California location only for hay)

TriKee Tack (Glendale, California)   (818)-242-4540
Rabbit Rescues
BunnyLuv Rabbit Resource Center

(North Hollywood, California)

Bunny Bunch Boutique

(Montclair and Fountain Valley, California)

San Diego House Rabbit Society

(San Diego, California) - no shipping, but hay is sold in multiple locations.
Online
---
Rabbit Pellets
Oxbow 
Essentials Young Rabbit Food

  Good for young bunnies up to 8 months of age & pregnant and lactating mothers.
Science Selective
Most rabbits love these pellets. I mix a handful with the Oxbow Essentials Adult pellets and my bunnies go crazy. How do I know they love the Science Selective? If I happen to run out, they look at their bowls of Oxbow pellets and look really sad. I use the grain-free, but have used the Adult and 4+ Mature. I discovered Science Selective too late to use the Junior Rabbit, but expect the same quality.
Sherwood Pet Health
I have not used Sherwood, personally, but know several people who have and they love it. Their pellets are alfalfa-based, and if you decide to go with this brand, you should follow their feeding instructions. Their recommendation to eliminate veggies in the diet does cause some debate in the rabbit community.
Update: Sherwood Pet Health is now offering a timothy-based pellet. For more information on their products, visit their website.
Small Pet Select
This company produces quality hay and pellets that most rabbits  enjoy.
---
Rabbit Treats
As discussed under Treats for Rabbits, treats can be as simple as a small piece of fresh fruit. You can also dry your own fruit to give as a treat with the help of the oven or dehydrator. 
Oxbow. Oxbow has a wide selection of rabbit-safe cookies. Not all rabbits will eat every variety, so see which one your bunny likes best.
Science Selective. My bunnies love the Selective Naturals Garden Sticks almost as much as the pellets. The Loops are also a big hit and come in a variety of flavors: Meadow, Country, Woodland and Berry
Small Pet Select. Some bunnies really enjoy gnawing on the Small Pet Select Hay Cubes. I would not substitute them for actual hay.
Food4Buns. Awesome local business! Using organic ingredients, they create tasty floral creations for bunnies and other small animals. Have a specific combination in mind? Reach out and speak to the owner. She will be happy to accommodate you.
Paw Kreations. Another fabulous local business! Paw Kreations makes both toys and treats for bunnies and other small animals. Only quality, organic ingredients go into their cookies and they are a big hit with the bunnies.
AshyandCC. Handmade and homegrown treats and toys. Suitable for rabbits, guinea pigs and other small animals. Click here to shop in their Etsy store.
Buttercup's Bun Boutique. Based in San Diego, California, this owner makes both toys and treats for bunnies. A portion of proceeds are donated back to local small animal rescues.
BunnyLuv Rabbit Resource Center. Hands down, all the bunnies love oat groats. Oat groats are unprocessed oats and a definite fan favorite. Feed out no more than a small pinch a couple of times a week, as this treat is high in fat. 
Need a bigger bag? Check out these: 2.2lb, 3lb, 5lb, 10lb, 25lb
---
Housing
Exercise Pens
Exercise pens are extremely versatile. I use several to keep bunnies away from wires, bookshelves and to divide a room, so different pairs can safely exercise without getting into fights. When considering height, 36 inches or higher contains most rabbits without making it too awkward for owners to fold up and move around.
Bowls
Water Bottle (good for traveling or if you have a special needs bunny)
Fans and Other Essentials
Fans
          Standing Fan (16" 3D oscillating fan - super quiet)
---
Bunny-Proofing
Remember, the harder and/or more expensive the item is to replace, the more likely it will become the target of your bunny.
---
Litter Boxes & Litter
Litter Boxes
Rabbit-Safe Litter
---
Roxanne and Abbey
Carriers
Large, collapsible pet carrier
Foldable, hard plastic carrier
---
Health Care
First Aid Essentials
Heating Pads
          Microwavable Heating Pad (good for traveling)
          Snuggle Safe (cordless heating pad)
Digital Thermometer and Lubricants
Syringes
          Irrigation Syringes (12ml)(for giving fluids orally)
          3ml Syringes (for administering medication)
          3ml Luer Lock Syringes (100 count)
Supplemental Food
          Oxbow Critical Care (Apple/Banana flavor)
          Oxbow Critical Care (Fine Grind)
          Recovery Food by Sherwood SARx Plus for Rabbits
Wound Care
          Saline Wash (pressurized wash)
          Saline Solution (For nebulizer)
          Gauze Pads (2x2)
Equipment
          Handheld Nebulizer (cordless)
---
Sleeping Poppy
Special Needs
Bedding
Fleece
          Reversible Fleece blanket (multiple colors and patterns)
          Premium Plush Sherpa Pet Blanket
Mats
Support
Arthritis and Joint Care
Equipment
Supplements
---
Grooming Supplies
Combs and Brushes
Scissors, Hair Dryer, Clippers and Replacement Blades
          Clippers (for angoras and other long-haired rabbits)
               Oster Replacement Blade (various sizes)
               Oster Replacement Blade (5/8W)
          Small Clippers - Cordless (for hard to reach places)
Nail Care
          Nail Clippers (guillotine style)
---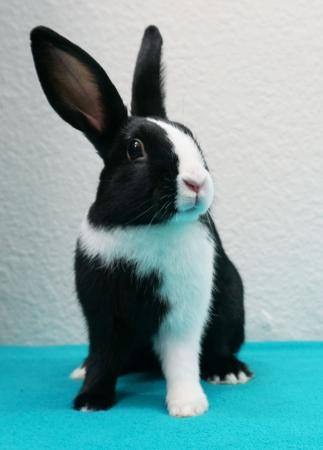 Toys
Amazon
          Plush Rabbit (nice for single bunnies)
Chew Toys
          Willow Twigloo (Large)
          Willow Balls (5-pieces)
          Chew Rings (3-pieces)
          Chew Toy Kit (7-pieces)
          Timothy Bungalow (large)
Toss Toys
Bunny Hideouts
          Handmade Castle Tunnel Hideout
          Maze Haven (this toy can actually take up a lot of room) 
Other Companies
United States
          Binky Bunny (California)
          Bunny Bunch Boutique (California)
          House Rabbit Society Store (California)
          PawKreations (California)
          Small Pet Select (Washington)
International
          For a more complete selection, check out the Rabbit Toys article!