Rabbit Toys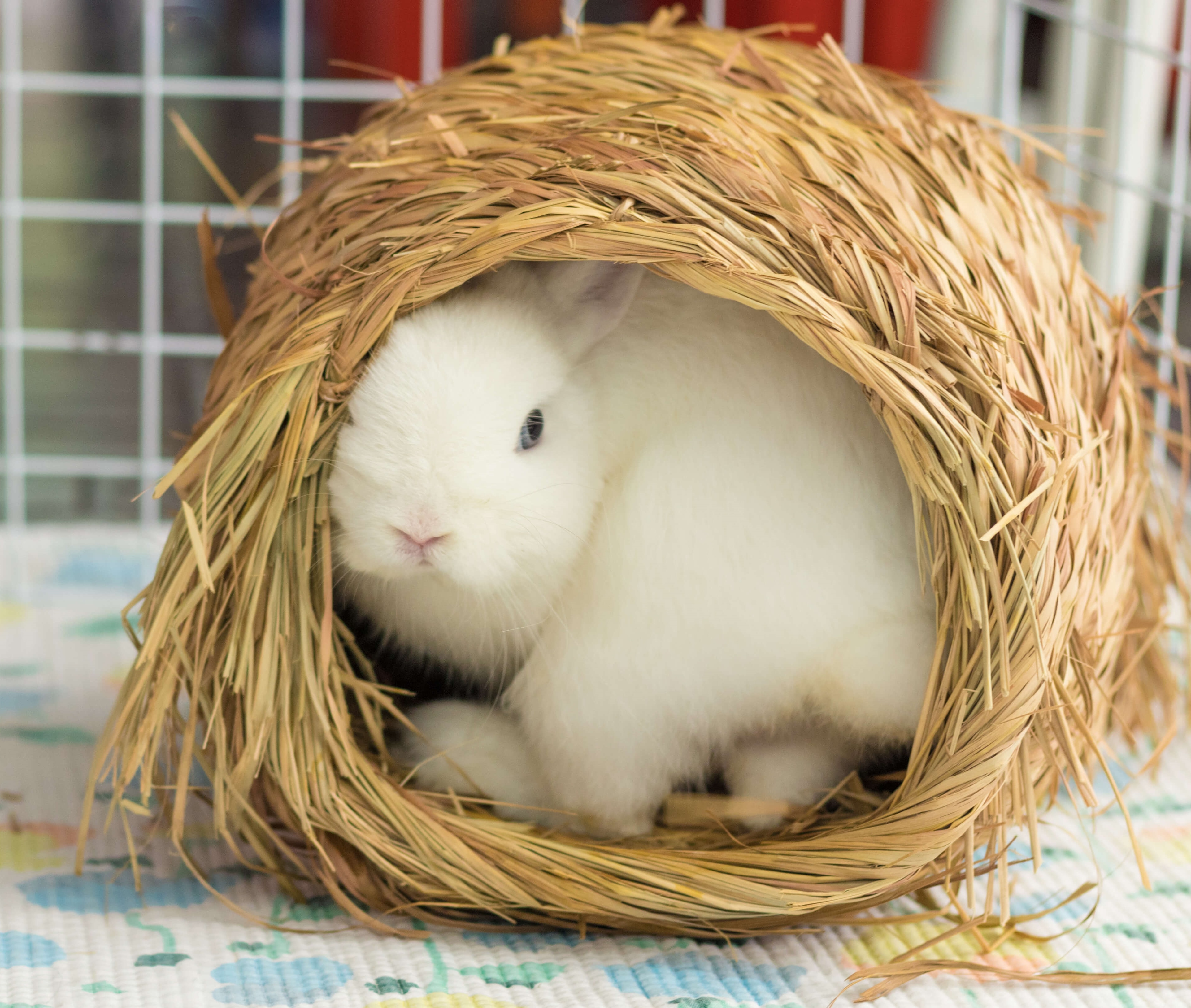 Photo credit: Kidkatster|Shutterstock.com
Why Does My Rabbit Need Toys?
Providing safe and healthy rabbit toys is an essential part of rabbit care. By nature, rabbits are incredibly curious animals. They love to explore their environment, and they have an innate desire to dig and chew to see what is on the other side. Of course, this can be problematic for humans who do not appreciate such destructive behavior. As owners, we need to take into account a rabbit's natural instincts and channel those behaviors into safe and approved activities. This is where toys come in.
Rabbits Just Wanna Have Fun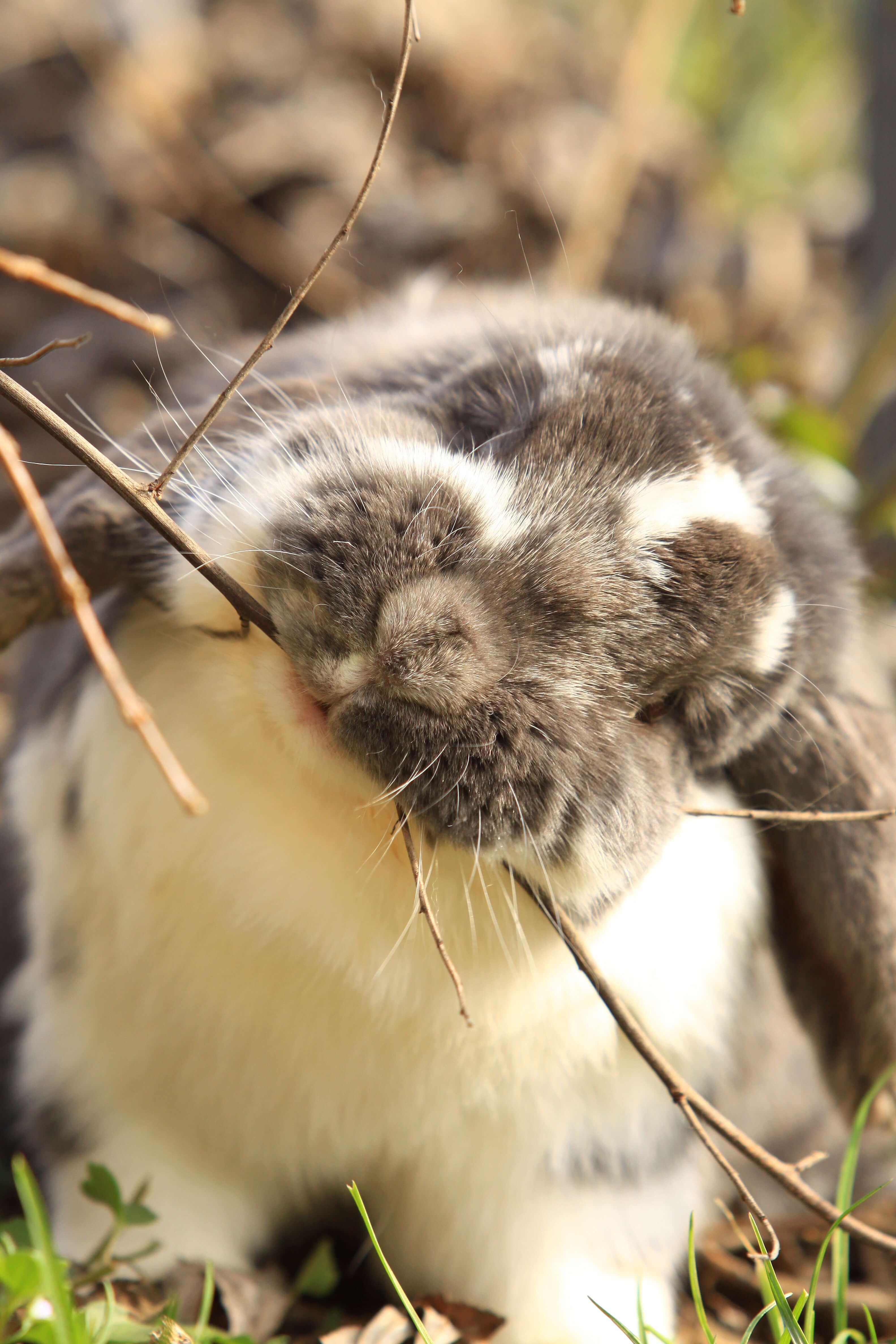 Photo credit: Bildagentur Zoonar GnbH|Shutterstock.com
Rabbit toys provide bunnies with the following:
Intellectual stimulation.
Give bunnies a 'mission'.
Provide a safe way for bunnies to indulge their natural instincts.
Problems arise when owners and caretakers are not mindful of a rabbit's mental needs. Part of the issue falls under the topic of housing. People who are unfamiliar with proper care, typically purchase a pet store cage or hutch and keep the bunny locked up the whole day. Such a small space does not allow for play, causing the bunny to become frustrated, stressed and aggressive. An aggressive bunny may lose his home. If the aggressive bunny is in a shelter, he may be euthanized. Either situation is a tragic end for a fixable problem.
In other instances, an owner may not provide the right toys (or not enough or any at all). This results in the bunny finding his own entertainment. If he is a chewer, he may attack the baseboards, walls, the furniture, shoes, clothing, books, artwork, family heirlooms, personal treasures, electrical cords, phone chargers, remote control buttons, etc. The bunny may dig into the couch cushions, floor pillows, box spring (they LOVE jumping around inside the box spring!) and pulling up carpet fibers. Bunny-proofing will help protect your belongings; rabbit toys will redirect your bunny's energy into acceptable activities.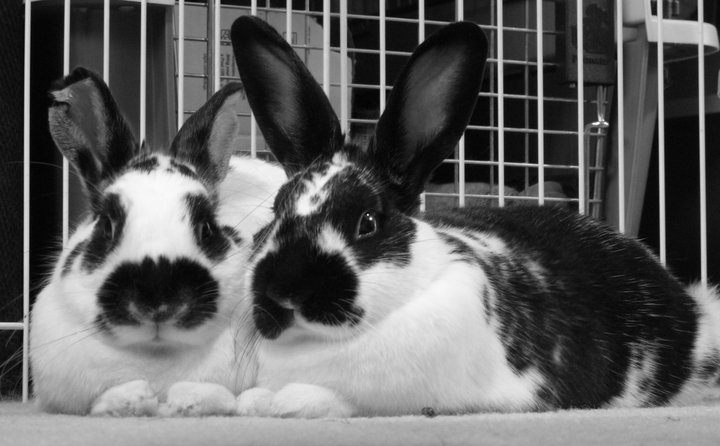 Oso and Whoppy
Who's a Smart Boy? When Oso and Whoppy discovered the joy of tearing up carpet, I thought I would try to re-direct their efforts. I went to a carpet store and bought a couple of carpet samples. They were small 1x1ft squares of tightly woven fibers in different colors which I put down on their favorite spots. Whenever those two decided to pick on the main carpet, I'd pick them up and put them directly on the carpet sample. After a few times of this, they left the main carpet alone and focused on destroying the carpet samples exclusively. Oso and Whoppy were good-natured enough to go along with my wishes. Not every bunny will go along with what you want, but sometimes they'll humor you. Be consistent and reward positive behavior. 
---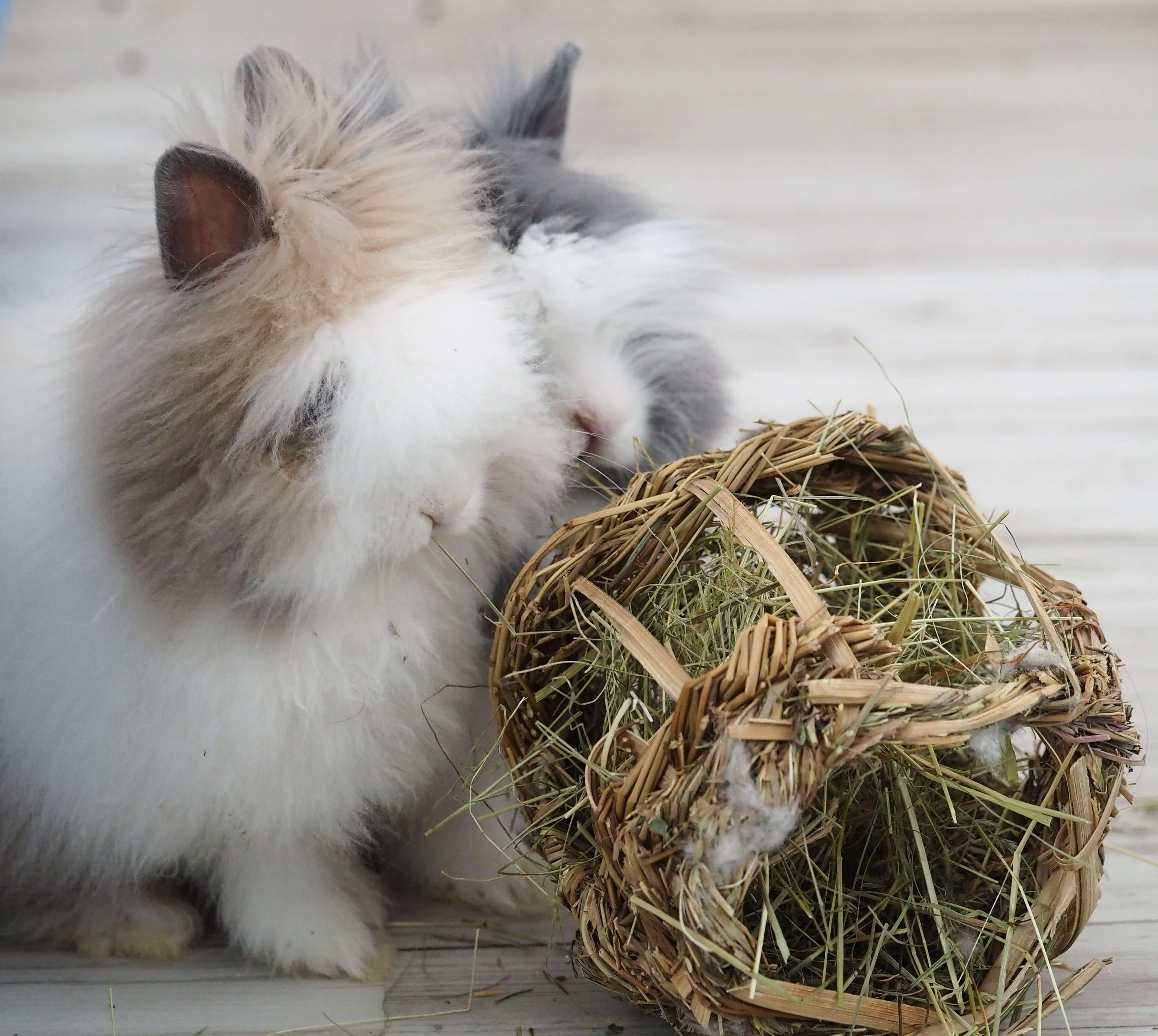 Willow or woven grass balls make great rabbit toys, especially when they are stuffed with soft hay, dried herbs, flowers or treats.
Photo by Sara Stuchlikova|Shutterstock.com
Types of Rabbit Toys
Rabbit toys typically fall into the following categories:
Chew toys (willow balls/cubes, cardboard, sticks)
Houses (although these are usually chew toys as well)
Toss toys (plastic keys, balls, stacking cups)
Digging toys (container with snow, hay, rags or paper)
Puzzle toys (treat balls, snuffle mats, etc.)
Not all bunnies will like every type of rabbit toy, nor will they like every toy in a certain category. For example, some may enjoy finding treats in the plastic stacking cups, but they may have no interest in the ball where you can hide treats inside. Some of it requires experimentation on your part. If your bunny doesn't seem interested in a treat ball, would he like it better if you changed the treat? Would he better enjoy a bag which he could tear up and look for a treat instead?
Quality can also make a difference, especially when it comes to chew sticks like apple or pear wood. Many times, commercially available apple wood sticks have been dried to the point in which they are pretty tasteless to the bunny. If you offer sticks that have been recently harvested and dried, your bunny may be much more interested. Another tip is to try different thicknesses. Some bunnies prefer twigs, while others like thicker branches (I'm talking about the diameter of your finger). See what they like.
These cat tunnels can also be used as rabbit toys. They are easy to clean, but might not last long if your rabbit is a chewer.
Photo by cynoclub| Shutterstock.com
What Makes Up A Rabbit Toy?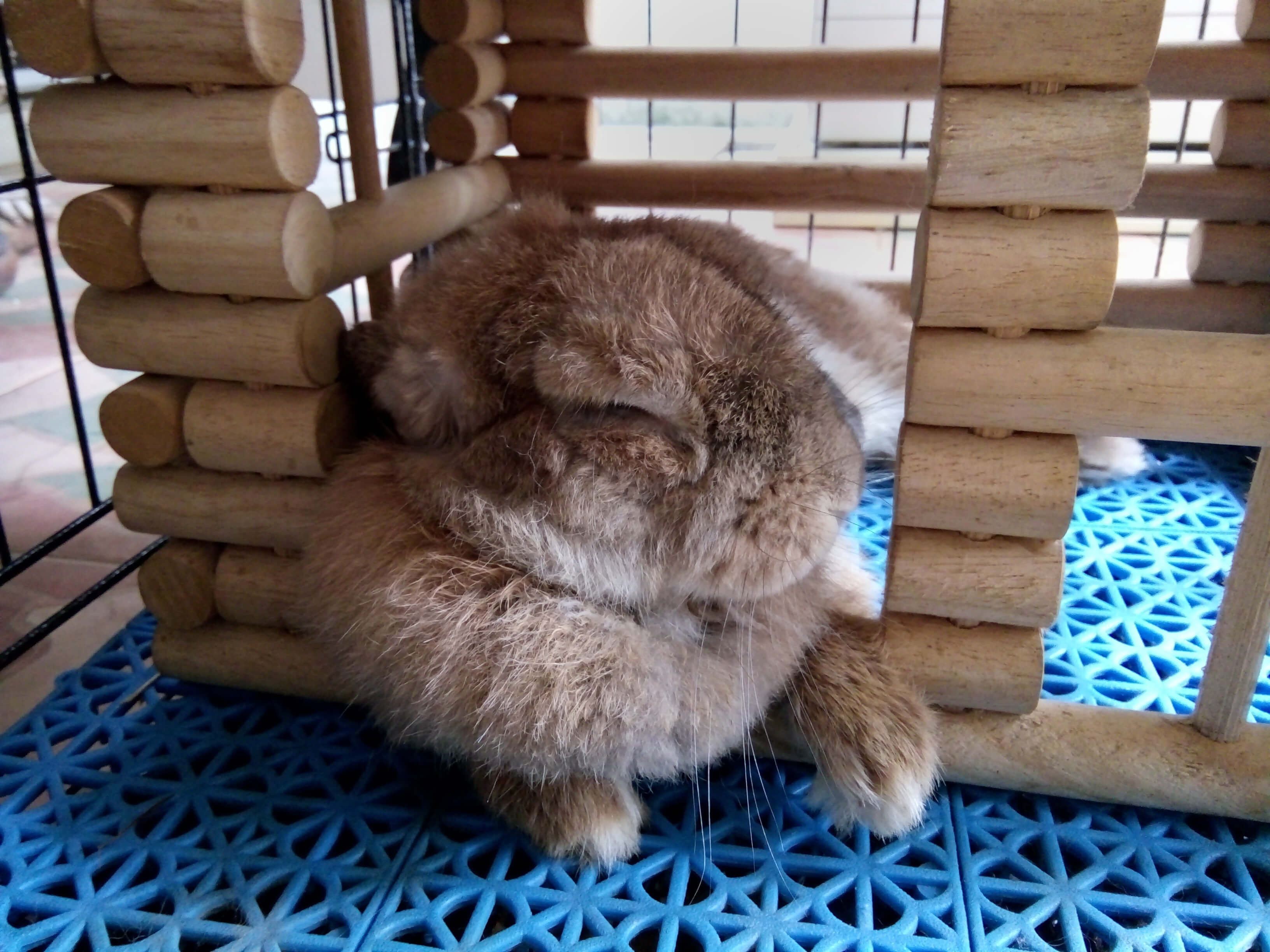 Photo by noypb|Shutterstock.com
Most rabbit toys are made out of materials that are safe for the rabbit to eat. Common toy materials are paper, cardboard, willow sticks, apple wood (or other fruit tree, such as pear), timothy grass, sea grass, unfinished pine, balsa wood, sisal and twine. Soft hay (like orchard grass) is often tucked away within the toy. Other dried grasses, flowers or herbs may also be included. Wooden toys are colored with fruit or vegetable-based dyes.
This doesn't mean the rabbit should consume an entire cardboard box; it means that if the rabbit happens to swallow a piece or two, that's fine. In fact, if you find your rabbit is sitting down to eat large amounts of paper, cardboard, etc., take the toy away from him. The biggest concern is not so much toxicity, but rather a gastric obstruction. Most rabbits will pull up carpet or fabric fibers and toss them aside, but not always. Pay close attention that your bunny doesn't swallow these materials, as these fibers can easily cause a medical emergency. 
Where Can I Find Some Rabbit Toys?
Small Online Retailers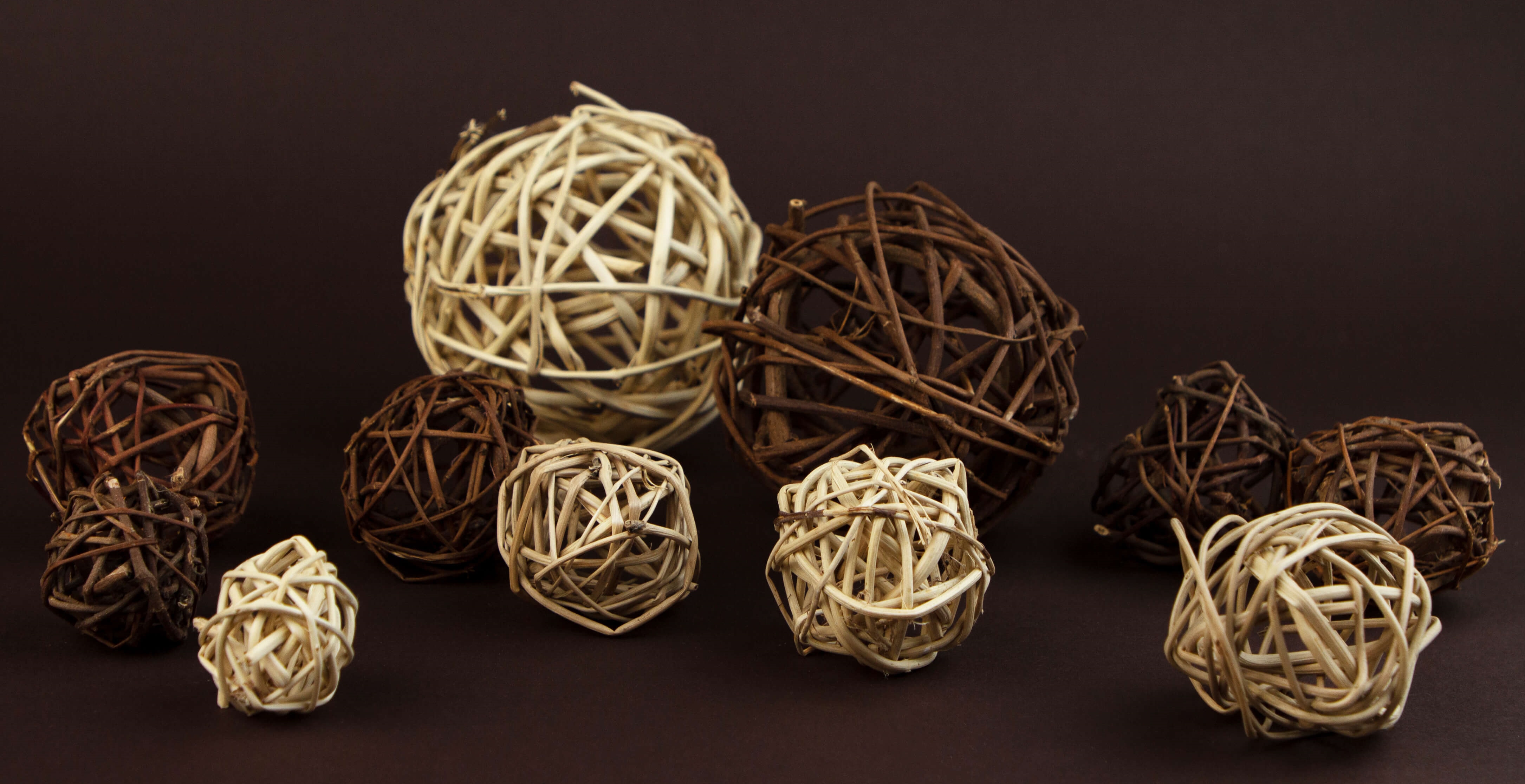 Willow is very popular with bunnies. It can come in a variety of shapes (balls, cubes, baskets, tents, etc), and the willow can come in both peeled (white) and unpeeled (brown).
Photo by Kreminska| Shutterstock.com
The best source for purchasing rabbit toys are through small, online retailers and rabbit rescues (some will have both a physical and online store). Several small online retailers can be found on Etsy. These are usually run by a small team of devoted rabbit lovers, and often they may donate a portion of their proceeds to a local rabbit rescue. Some of these stores have very unique rabbit toys that are not found on bigger retail sites, such as Amazon. Often they have the flexibility to work with a customer to either personalize or customize a product.
US Retailers
Vybecat's cardboard castles are made of 100% recycled cardboard. The outer sides have a smooth finish made from paper products to make the boxes a little more durable.
Photo by VybeCats
Small Pet Select: This company is well-known for their hay. Ships within the US. Canadians can order through Amazon.ca. United Kingdom and EU customers can click here.
Vybecats: This company creates cardboard castles for cats, however, they are also appropriate for rabbits. Ships within continental US.  
Rescues
Purchases made from these stores directly support the shelters and the animals in their charge.
International
Australia:
Fluffy Time Buns: (Melbourne, Australia) Provides mobile grooming, but also has a selection of toys and treats. A portion of sales is donated to Bluey and Alice Rabbit Refuge in Victoria. Ships within Australia only.
Canada:
Europe:
India:
Turkey:
Cotnens: Wooden pet houses. Ships worldwide.
United Kingdom:
Major Pet Stores
Photo by Kiril Matanov|Shutterstock.com
In the major national pet store chains, the selection of rabbit toys in the Small Animal aisle are pretty slim. Since this section caters to animals as small as a mouse or hamster, most of the toys in are much too small for a bunny (although Oxbow has recently marketed several different kinds of rabbit toys). However, as the small animal section is smaller than usual, you might have better luck checking out these other aisles:
Birds: These toys are meant to be hung from the top or side of a bird cage. Wooden ladders, hard plastic rings and blocks on twine are the common bird toys that can also be put in bunny pens. I would avoid those with anything metal (or remove it before putting them in the pen) to prevent a bunny from damaging his teeth or swallowing anything that he shouldn't (such as small bells). Any rope/twine should be unoiled, and made with either 100% cotton, jute or sisal material. Do not use leather or anything with synthetic fibers, glue or staples.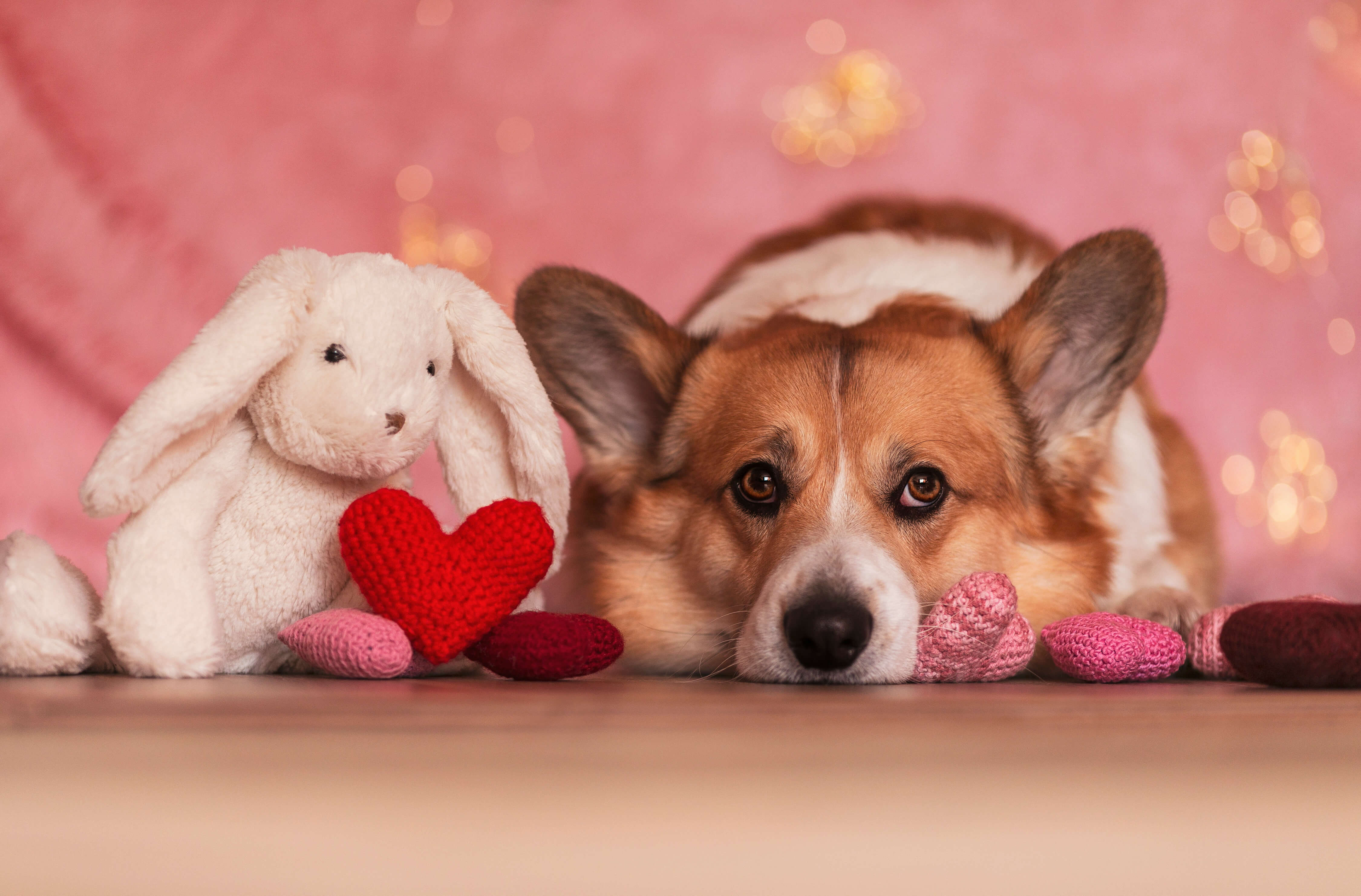 Photo by Bachkova Natalia|Shutterstock.com
Dogs: If I'm on the search for a plush toy, I will head to the dog aisle. Plush toys are great for single bunnies or if you are looking for something the right size to prop up your disabled bunny. The details are stitched on, rather than accessorized with buttons, ribbons or other choking hazards you may see with children's stuffed animals. Often times, these toys are more durable, as they are meant for dogs who like to chew and tear apart. Also, since the plush is designed for a dog to carry around in the mouth, there are plenty of small flat shapes that are suitable for a bunny.  Some bunnies - particularly those who have lost a bond-mate - can get really attached to their stuffed animal. They will snuggle and groom it, and the toy will become a good companion for them.
| | |
| --- | --- |
| | These small stuffed animals can be the perfect size and shape, especially for a single or disabled bun. Just make sure you replace (or repair) the toy as soon as the fabric is ripped and the stuffing is exposed. |
Photo by Prostock Studio| Shutterstock.com
Cats: I shop in the cat aisle for several useful products, such as dishes, blankets, beds, litter boxes and some types of litter. There are also a couple of cat toys that may also be appropriate. Scratch toys made of corrugated cardboard can be of interest. Many of these types of toys come with catnip, which I don't add. Since the cardboard is thick and often glued to a pad, do watch that your bunny does not consume large portions of the cardboard as the thickness may cause a gastric obstruction.
I might also consider the plastic toss ball. These toys are cheap and can sometimes be bought in multi-packs. These can be fun for bunnies who enjoy tossing toys around. However, since the plastic is thinner, I would immediately remove the toy once it is damaged to prevent the bunny from choking on the outer plastic or the metal (or plastic) bell inside. If you have the space, cat tunnels can also be used as a rabbit toy. However, if your bunny is a serious chewer, I would skip this and use a cardboard tunnel instead.
Paper products are always a big hit with bunnies.
Photo by phBodrova|Shutterstock.com

Hard plastic and wooden baby toys can also be used as rabbit toys.
Photo by White Bear Studio|Shutterstock.com
Other Sources for Rabbit Toys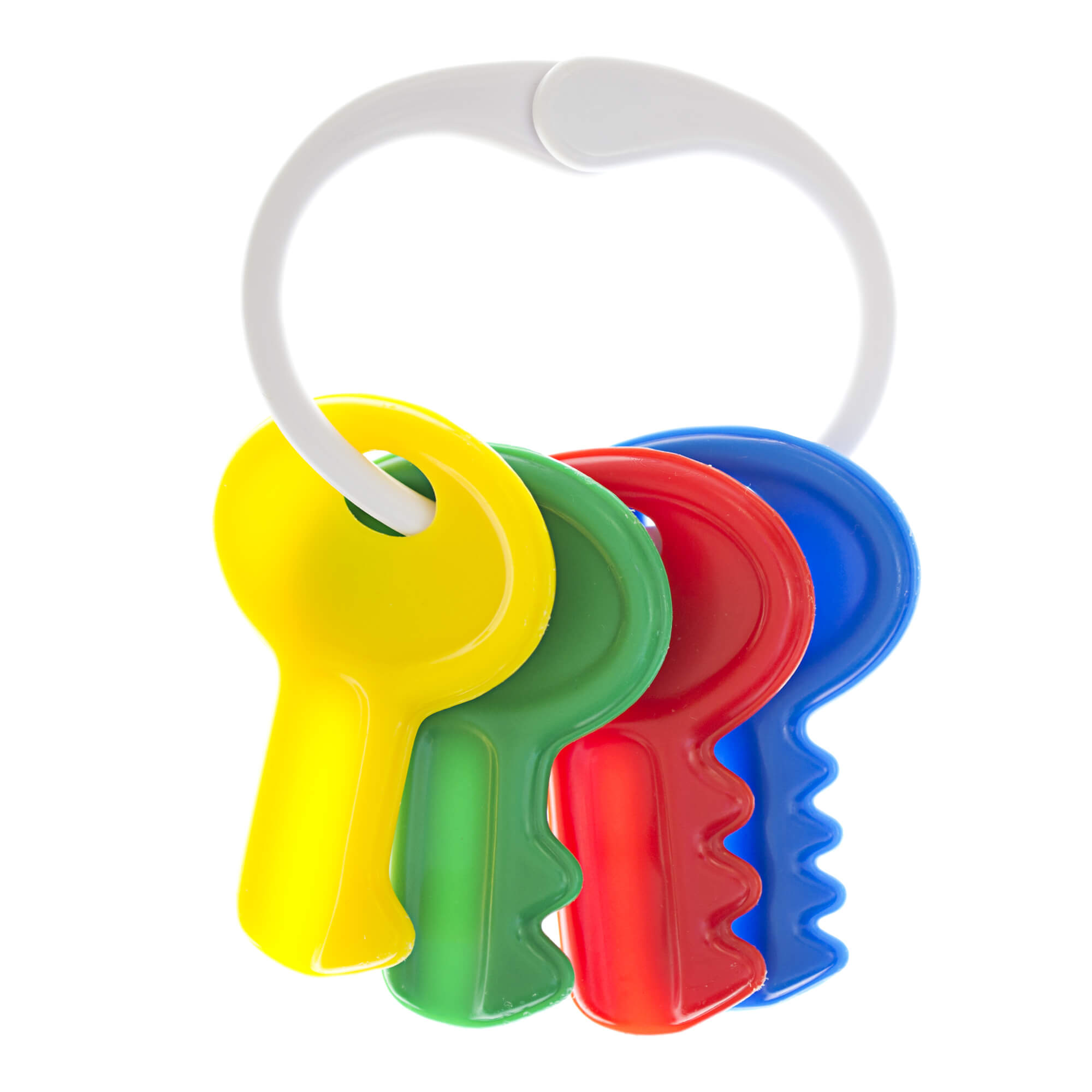 Hard plastic keys for teething babies make great toss toys for bunnies.
Photo by Yganko| Shutterstock.com
Baby and Children Toys: Some kid toys are pretty popular with bunnies. Hard plastic keys can be fun to throw around. Treats can be hidden inside several stacking cups, making the bunny determined to throw the cups around to find the goodies. Since babies tend to stick lots of things in their mouths, these type of toys are manufactured to be safe and durable. The plastic is difficult to shred and there are no small objects a baby - or rabbit - can choke on.
McKinley
Photo by John Borucki
Plastic children chairs are also a fun addition for your bunny. Many bunnies enjoy the opportunity to check out the view safely. These chairs are not as high as a normal adult chair and they easily withstand some chewing.
If you have children, or if children are frequent guests, these chairs can be perfect for them to sit down and interact with your rabbits in a manner that makes your bunnies feel comfortable.
Snow Cone Jones startling herself with the stacking cups.
Snow Cone Jones is a special-needs sanctuary rabbit at Zooh Corner Rabbit Rescue. If you are interested in donating to her care, click here for more information.
---
Sometimes, your bunny just needs a tank.
Normally, you do not want anything on the box - packing tape, shipping labels, etc. If you cannot get everything off (or you are making a bunny tank), supervise playtime to make sure your bunny does not eat the tape or stickers
DIY Rabbit Toys
Photo by Olegkovalevichh|Shutterstock.com
The most popular rabbit toys in my house are those my husband and I have created over the years. Cardboard boxes, packing paper, toilet and paper towel tubes, old bed sheets, pillow cases, and old magazines have always been much loved. 
Cardboard is probably the most versatile material. The box itself can be used as a place to hide and take a nap. Place a few side-by-side and cut out a few holes, and then you have a tunnel. Stack a couple of boxes and cut out a hole or two, and you have a tower (just make sure it's not too tall). Take a bigger box and fill it with hay and let your bunny dig inside of it.
Does your bunny rattle the pen bars or the gate? Use a box cutter to cut out strips of cardboard, then weave them around the pen bars at the bottom so the bunny has something to tug and chew on. This has always been a favorite of many of my bunnies. Rolling strips of cardboard around the bars or jamming several rolls of toilet paper tubes between the bars so that it is very tight, can entertain bunnies for hours. You can also use a binder clip to fasten several rolls to the pen and watch your floor get covered with strips of cardboard.
Before you re-purpose anything, please remember to remove all tape, shipping labels, stickers, tags, staples etc. Some ink is usually OK, but I would try to avoid using those boxes that are completely covered in ink. Any wood should be untreated and unpainted. If you want to use pine cones or apple branches from your yard, make sure the plants are not sprayed with chemicals and dry them out for several days.
Please note, that if you live in an area where Rabbit Hemorrhagic Disease is active, do not gather wild plants or branches in which wild or feral rabbits have access, as your bunny will be at extreme risk for infection.
Heavy duty cardboard cement forms should be avoided as a rabbit toy.
Photo by Kofana12|Shutterstock.com
A word about cardboard
Some people are worried about the glue in cardboard. For single layer cardboard - used for toilet paper tubes and thin corrugated cardboard (used for many packing boxes), there is not enough glue present to be a problem. The cardboard itself is thin enough not to cause issues if the bunny happens to eat a piece. Large cardboard rolls that you use for cement forms are a different matter. The densely packed material and glue can get stuck in teeth or cause gastric obstruction. 

---
Some More Rabbit Toy Ideas
One of Joey's favorite activities is tugging on sheets and re-arranging them. If I want to make it challenging for him, I will tie one end to the pen.

Photo by Lillian Kruse
Lillian's bunnies love to dig, so she purchased a large plastic container and filled it with hay. She also placed a wooden box on the outside, so the bunnies could safely climb inside and out.
| | |
| --- | --- |
| Winston tears apart the Timothy Bungalow quickly. To slow him down, I pack the bungalow tight with hay and place it in a clean litter box to contain the mess. He will spend hours demolishing the toy. | Dior loves hiding under fabric and poking around. I have a very large bed sheet clipped on the top of the pen so it hangs down and she can easily get in and out of the folds. |